Politics Weigh On Eurozone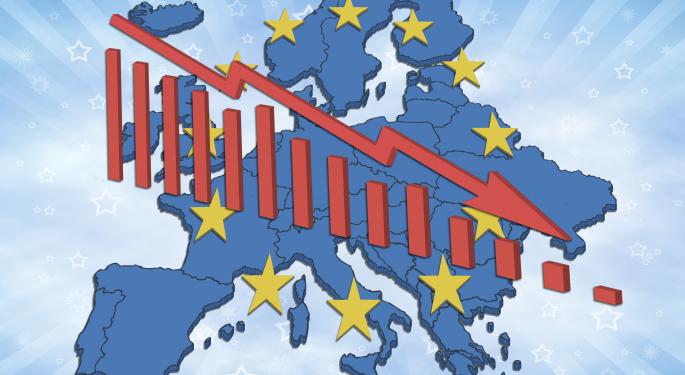 The euro traded steadily at $1.33 on Tuesday as politics in the 17 currency bloc became the main focus. In Germany, September 22 elections will determine whether or not current Chancellor Angela Merkel and her coalition will return to power, while Italy is facing more political uncertainty as the nation's fragile coalition government holds together by a thread.
Italian stocks plummeted on Monday after Silvio Berlusconi's centre-right party threatened to take down the government if Berlusconi loses his place in parliament due to his recent conviction. Berlusconi was found guilty of tax evasion in Italian courts earlier in the year and currently faces charges for underage prostitution.
Related: Benzinga Market Primer: August 27: Investors Cautious With Tension Between The US and Syria On The Rise
 
As Germany inches closer to elections, most are expecting the current chancellor, Angela Merkel to cruise to an easy victory. However, the issue of whether or not Greece will need a third bailout loan and a debt writedown has been a hot button with voters as many are fed up with shouldering the burden of their neighbors' debt.

Peer Steinbrueck, Merkel's opposition from the Social Democratic Party, is using Greece's precarious situation to gain votes and take away from Merkel's campaign. Steinbrueck has said Merkel was not upfront with Germans about the issue and criticized her crisis response. Businessweek reported that Steinbrueck advanced by a percentage point to 25 percent, compared to Merkel's 40 percent.
Although Steinbrueck isn't expected to threaten Merkel's chances of a victory, he could keep the current Chancellor's coalition from returning to power. Merkel's coalition partner, the Freed Democratic Party has fallen to five percent; but Steinbrueck's coalition party, the Green party was at 12 percent. With the current figures, Merkel would be forced into a grand coalition with Steinbrueck's Social Democratic Party.
Posted-In: Angela MerkelNews Eurozone Commodities Forex Global Federal Reserve Markets Best of Benzinga
View Comments and Join the Discussion!