Big Car Makers Take Sales Back Seat To Tesla In California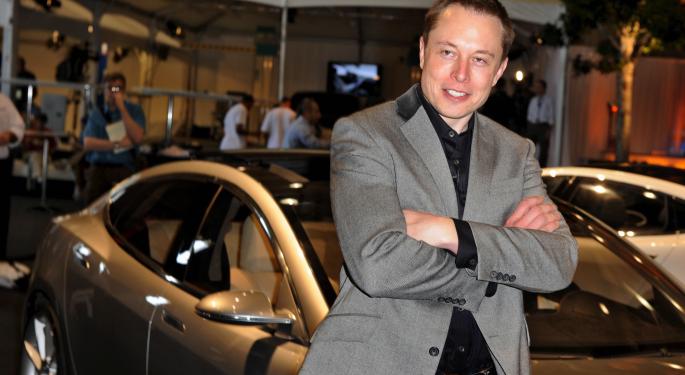 The Tesla (NASDAQ: TSLA) Model S is quickly proving itself to be much more than a novelty or a toy for the rich and famous.
According to the California New Car Dealers Association, in June Tesla outsold several "heavy hitters" in the state including General Motors (NYSE: GM)'s Buick and Cadillac, Chrysler, Fiat and six others.
Referencing the CNCDA report, Quartz pointed out that through June Tesla landed 12 percent of the luxury sports segment of new car sales, besting both the Audi A6 and the Toyota (NYSE: TM) Lexus GS. Those autos managed to capture just 4.1 and 5.9 percent respectively.
These impressive sales figures come on the heels of high widespread praise from automobile experts culminating with a breathtaking score of 99 (out of 100) by Consumer Reports in its April automobile ratings issue.
Related: Consumer Reports Rates Tesla Model S the Best – Maybe Ever
The car also recently received a five-star safety rating by the National Highway Traffic Safety Administration although, according to Green Car Reports, the NHTSA pushed back against claims by Tesla that the actual rating was 5.4 stars.
While Tesla's first half 2013 sales of 4,714 Model S's were enough to gain media attention and 0.6 percent of the total light-duty vehicle market in California, those numbers pale when compared with Toyota, Honda (NYSE: HMC), Ford (NYSE: F), and General Motors with 21.2, 13.1, 11.9, and 10.6 percent of market share respectively.
Lest Tesla CEO Evon Musk wax too poetic about sales of his groundbreaking electric car, Slate pointed out that at $63,570 (after rebate), the Model S isn't exactly in Ford Focus territory when it comes to affordability for the average car buyer.
Clearly, Tesla's challenge, moving forward, is to develop and bring to market a more affordable all-electric automobile, something the company has the incentive to do now that sales figures demonstrate that the demand for such a car is there.
At least in California. And therein lays the rub. With some of the most restrictive antipollution laws in the country, not to mention a populace that tends to embrace the newest craze, California is not "average" when it comes to anything, including taste in cars.
Slate also pointed out that a whopping seven percent of all new-car sales in California are hybrids. This isn't surprising. California leads the nation with more than 26 percent of all hybrid vehicles sold in the U.S. Florida is a distant second with 5.4 percent, according to Adam Goldfein citing a recent report by Experian Automotive.
Shares of Tesla were up $8.66 or more than five percent at $170.50 in morning trading Monday.
At the time of this writing, Jim Probasco had no position in any mentioned securities.
View Comments and Join the Discussion!
Posted-In: Audi A6 Buick Cadillac CaliforniaNews Retail Sales Events Media Best of Benzinga