Comcast Failed To 'Kick-Ass' Last Weekend (CMCSA)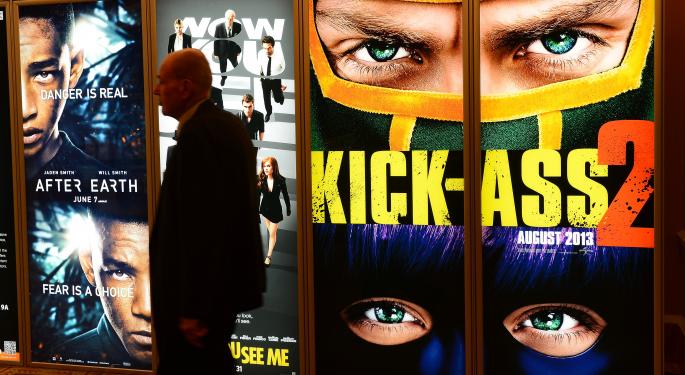 Universal Studios, which was acquired by Comcast (NASDAQ: CMCSA) during Q1 2013, failed to deliver a successful sequel to the original Kick-Ass.
Plagued by questionable ads (the second film was accused of looking too similar to the original) and a now-infamous controversy with comedic actor Jim Carrey, Kick-Ass 2 came to theaters with a lot of studio hype, but very little fan attention.
Kick-Ass 2 may have also been hurt by its R-rating, which tends to limit a film's potential, since minors are not officially allowed to purchase tickets without an adult.
Even so, the film earned just $13.5 million over the weekend, which is $6.3 million less than the original made when it first opened in April 2010.
This suggests that consumers were not simply turned off by the ads or the controversy -- they may have also been reluctant to see another sequel that could disappoint.
Related: 'Jobs' Movie An iFlop
Thus far, the film's Internet Movie Database rating (7.5 out of 10) is just a couple tenths below the first Kick-Ass (7.8).
This is much better than Sony's (NYSE: SNE) The Smurfs 2, which received a rating of just 4.8 versus the original Smurfs' slightly more respectable rating of 5.3.
The Smurfs 2 made just $27.1 million when it opened on August 2. With a budget of $105 million, the sequel actually cost $5 million less than its predecessor. But the first film made $35 million when it debuted and went on to earn $100 million by the end of its third weekend. As of August 18, The Smurfs 2 is estimated to have earned $56.9 million.
Though it is more common for movie sequels to have increased budgets, Kick-Ass 2 was actually cheaper to produce (it had a $28 million budget) than the first Kick-Ass (which had a $30 million budget).
Kick-Ass 2 was not expected to break any records this weekend, but it was predicted to earn $17 million.
Meanwhile, many expected Lee Daniels' The Butler to fall within the $24 million range.
According to Box Office Mojo, Lee Daniels' The Butler surpassed that goal and earned $25 million last weekend. Assuming the film holds steady in the weeks to come, the Weinstein Company should easily recoup its budget of $30 million.
Time Warner's (NYSE: TWX) We're the Millers, which earned an estimated $17.7 million last weekend, is already profitable. The film's total domestic gross currently stands at $69.5 million -- double the $37 million budget.
Disclosure: At the time of this writing, Louis Bedigian had no position in the equities mentioned in this report.
Louis Bedigian is the Senior Tech Analyst and Features Writer of Benzinga. You can reach him at 248-636-1322 or louis(at)benzingapro(dot)com. Follow him @LouisBedigianBZ
Posted-In: Box Office Mojo Comcast Internet Movie Database Kick-Ass Kick-Ass 2 Lee Daniels' The ButlerNews Tech Best of Benzinga
View Comments and Join the Discussion!