Carl Icahn Thinks Apple Is Worth $625 (AAPL)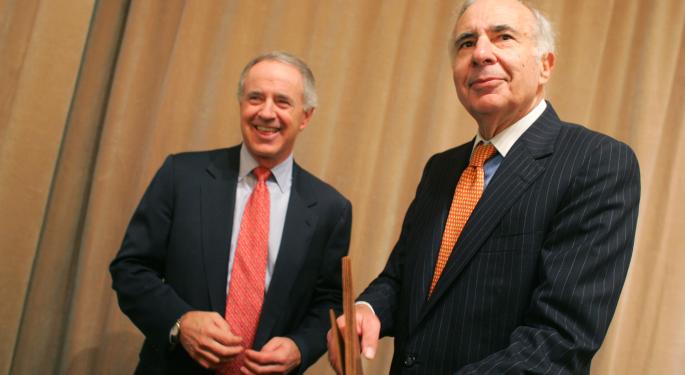 Famed investor Carl Icahn (Twitter: @Carl_C_Icahn) revealed Tuesday that his firm, Icahn Enterprises (NYSE: IEP) had taken a "large position" in Apple (NASDAQ: AAPL).
Apple shares rose about five percent on the news and probed the $500 level in early Tuesday trade.
Twitter Disclosure
Following news Monday that Icahn Enterprises would from then on disclose non-public, material information on Mr. Icahn's personal Twitter, Icahn used the new ability to disclose the position Tuesday. He tweeted:
We currently have a large position in APPLE. We believe the company to be extremely undervalued. Spoke to Tim Cook today. More to come.

— Carl Icahn (@Carl_C_Icahn) August 13, 2013
Had a nice conversation with Tim Cook today. Discussed my opinion that a larger buyback should be done now. We plan to speak again shortly.

— Carl Icahn (@Carl_C_Icahn) August 13, 2013
Related: Benzinga Market Primer: Wednesday, August 14: Futures Lower As Eurozone Escapes Recession.
Of note, Icahn disclosed that his firm believes that Apple is undervalued as a key reason for the investment. He also will push for Apple to boost its buyback and return more capital to shareholders to create value.
$625 Per Share
In an interview with the Wall Street Journal late Tuesday, Icahn gave more color on the new position. He indicated that he sees significant upside to the stock price and will work with management in an effort to continue to create value for shareholders.
One of the key tenets of Icahn's thesis is a larger buyback program. Although Apple announced a buyback program earlier this year, Icahn believes that it should be used quickly at current prices to create momentum, as he says the stock is cheap.
"This is a no-brainer to go buy stock in a company that can go borrow cheaply," Mr. Icahn said in the interview. "Buy the company here and even without earnings growth, we think it ought to be worth $625." Apple shares closed on Tuesday at $489.57, having risen 5% on the news of the position.
The Wall Street Journal added, "Mr. Icahn's thesis rests on Apple borrowing at about a 3% interest rate and buying back shares right now, likely at around $525 a piece. A stock buyback can increase earnings per share by reducing the number of shares outstanding."
The Wall Street Journal also speculates that Icahn's stake is over $1.5 billion.
Related: Facebook COO Sheryl Sandberg Sells $91.1 Million In Stock On August 7.
Apple Welcoming Of Icahn
Apple's management appears willing and happy to work with Icahn to achieve proposals that are in the best interest of shareholders. Icahn even alluded to the fact that he had been in contact with Apple CEO Tim Cook and that further talks were to come between the two.
Steve Dowling, an Apple spokesman, said the company appreciates the interest and investment of all its shareholders. "Tim had a very positive conversation with Mr. Icahn today," he said.
Shares Rally
After gaining nearly 5 percent Tuesday, Apple shares rallied again Wednesday by over 1 percent to $494.50 per share. Shares traded as high as $499.93 but failed to break through the key $500 per share level.
Author disclosure: I am long Apple but have not traded in the stock in the past month.
View Comments and Join the Discussion!
Posted-In: Carl IcahnNews Hedge Funds Movers & Shakers Management Insider Trades Movers General Best of Benzinga