Stocks Get China Boost From Second China Disneyland Loan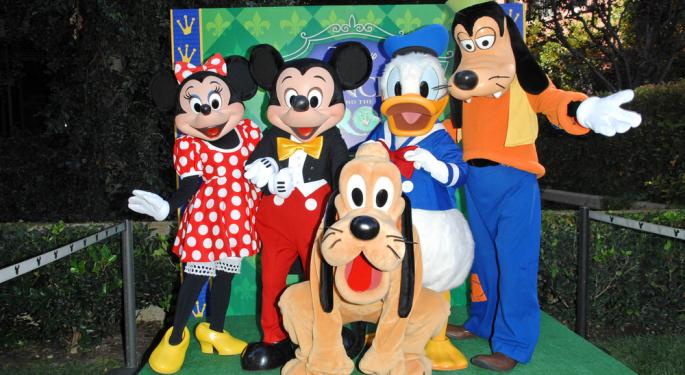 China-sensitive stocks were boosted this morning from news that the world's second-largest economy authorized a massive loan from one of the big four state-owned banks to finance the building of the nation's second Disneyland (NYSE: DIS) as well as pay for improvements to Shanghai's downtown in its efforts to create a free-trade zone.
17.5 Percent of Shanghai GDP
The South China Morning Post reported that Agricultural Bank of China (known commonly as Agbank), gave a 250 billion yuan loan, or about $41 billion. The size of the loan is equal to about 17.5 percent of Shanghai's GDP, a massive stimulus.
The funds will be used for various infrastructure projects, including the financing of a new Disneyland in Shanghai which will cost roughly 24.5 billion yuan and also for general improvements in the city. Specifically, Shanghai needs to update its infrastructure so it can implement the much-heralded free-trade zone.
The new Disneyland is a joint venture, owned partly by the state and partly by private investors.
Related: China Stocks Rallying On "Stealth Stimulus" Loan From Agricultural Bank To Shanghai.
No Large-Scale Stimulus
Senior government officials told the South China Morning Post that the loan does not mean that the country will launch a large-scale economic stimulus, as it did in 2008. However, the paper also said that its government sources were open to the idea of further "unofficial economic stimulus" in the form of loans to help key cities such as Shanghai to boost local growth.
One region they cite as a potential target for unofficial stimulus is Guangdong, where the export industry is facing difficulties as global growth slows. The government could give loans through one of the four large state-owned banks to domestically focused sectors to diversify the regional economy away from its export-driven model.
Shares Gain
Materials stocks and other China sensitive stocks gained on the news. The iShares FTSE/Xinhua China 25 Index (NYSE: FXI) rose 2.95 percent on the news, reflecting the broad gains in Chinese shares. Dangdang (NYSE: DANG) gained 5.81 percent and Mercox Lane (NASDAQ: MCOX) rose a whopping 36.26 percent.
Copper stocks rallied on the news, as Freeport-McMoRan Copper and Gold (NYSE: FCX) gained 0.95 percent and Vale (NYSE: VALE) rose 2.32 percent. U.S. Steel (NYSE: X) also rose nearly 3 percent on the China news while Caterpillar (NYSE: CAT) rose 1.53 percent and Deere (NYSE: DE) gained 1.2 percent.
View Comments and Join the Discussion!
Posted-In: Agricultural Bank of China (Agbank) China China StimulusNews Events Global Econ #s Economics Best of Benzinga