Dole CEO and Chairman Announces $13.50 Buyout Offer (DOLE)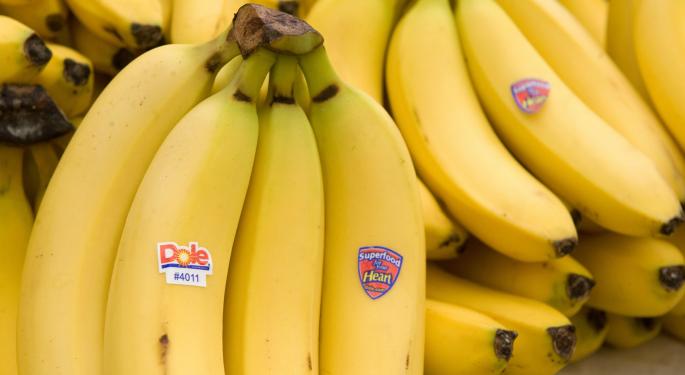 It was announced during Monday's premarket that Dole (NYSE: DOLE) will be acquired for $13.50 a share. This is a 5.4 percent premium to Friday's close of $12.81.
The company's chairman and CEO, David Murdock, originally offered to buy the company for $12.00 per share on June 10th, when the company was trading at just $10.20.
With an enterprise value of 1.6 billion, Murdock looks to buy the shares with a combination of cash and financing from Deutsche Bank, Bank of America, and The Bank of Nova Scotia.
The deal is contingent on a majority vote from shareholders. The initial offer of $12 was swiftly rejected by the company's owners, who sued the board of directors for not working to get the best deal for its shareholders.
At 90 years old, Murdock is most seems to be buying the company for the sake of his family trust, commenting that the company will be better off "without the concern that a public company must have for the investing public's short-term expectations."
Related: Top 4 Small Cap Stocks In The Food Industry With The Lowest PEG Ratio
Analysts seem to expect the deal to go through. First, $13.50 is a huge premium to both the $12 (12.5 percent) initially offered and shares trading at $10.20 (32.4 percent) before the original bid.
In addition, Dole doesn't have any activist investors who are likely to step in and work against the deal. With Carl Icahn as a big investor in Dell (NASDAQ: DELL), Michael Dell has been struggling to persuade shareholders to accept his offer for the company.
The next step is a 30 day go-shop period, where a special committee, with the help of an investment bank, will search for alternative strategies that will better shareholders. Historically, these strategies come in the form of additional buyout offers.
Citing the Dell example again, Michael Dell's original offer for the company was $13.65, but Carl Icahn came back with a $14 bid, including warrants for future shares. This forced Michael Dell to raise his offer.
Based on trading activity, investors do not expect a higher offer, with a small probability the $13.50 buyout will not be accepted. After shooting up to $13.50 in premarket trading, Dole pulled back to open at $13.45.
Shares have oscillated in just a one cent range today, between $13.45 and $13.46 on volume already ten times higher than the ten day average.
Posted-In: Carl Icahn David Murdock Michael DellM&A News Management Best of Benzinga
View Comments and Join the Discussion!