U.S. Postal Service Posts $740 Million Loss And May Default On Pension Payment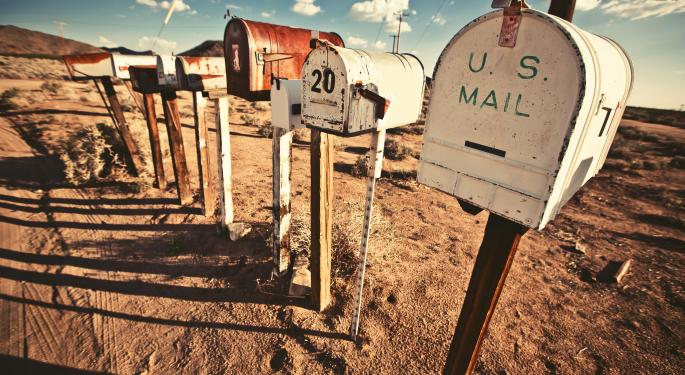 According to a statement released by the U.S. Postal Service on Friday, it lost $740 million over the last three months, increasing its year-to-date net loss to $3.9 billion.
Despite claiming to have taken aggressive action to contain costs and increase efficiency, including a decrease in worker comp costs, the Postal Service said it would not become profitable without comprehensive legislation on the part of Congress.
The Associated Press said the report comes as legislators are considering proposals to repair agency finances. After losing $16 billion in 2012, the agency wants to end most Saturday and door-to-door mail delivery. It also, wants to reduce currently required $5.6 billion annual pension payments for health benefits for future retirees.
Ending Saturday delivery alone, the Postal Service said, would save as much as $2 billion annually.
In the statement, Postmaster General and CEO Patrick Donahoe said, "We are encouraged that comprehensive postal reform legislation has started making its way through the legislative process in both the House and Senate." Adding, "We continue to evaluate the current legislation based on whether it enables $20 billion in savings by 2017."
According to Donahoe, the Postal Service Five-Year Business Plan provides at least $20 billion in savings, creates a sustainable business model, and still meets America's residential and business mailing and shipping needs into the near future.
Related: FedEx Announces New Contract with Postal Service
A primary driver of losses for the Postal Service is the need, by Congressional mandate, to pre-fund retiree health benefits at the rate of more than $5 billion annually. In addition, growing online communication has resulted in a severe decline in First-Class Mail volume. Finally, the agency blames losses on the continuation of six-days-per-week mail delivery.
Despite the nearly three-quarters of a million dollar loss, expenses were reduced, the agency said, by $918 million due to a change in the way future cash payments for workers' compensation are calculated.
Q3 operating revenue increased 3.6 percent compared to the same period in 2012. Revenue, according to the statement, was up 1.3 percent for the first nine months of the fiscal year.
Emphasizing the agency's dire straits, Postal Service CFO, Joe Corbett said, "We need to make fundamental changes to the way we currently do business, however, without comprehensive postal reform legislation signed into law, our hands are tied and we expect multi-billion dollar annual losses to continue."
Corbett added that without help the Postal Service would be unable to make the required $5.6 billion retiree health benefits pre-funding payment due by September 30.
The Postal Service, although subject to congressional control, is an independent agency and gets no tax dollars for day-to-day operations.
Posted-In: Congress House Joe CorbettNews Politics Events Press Releases General Best of Benzinga
View Comments and Join the Discussion!