Samsung's Galaxy Gear To Take On Apple's iWatch (AAPL, SSNLF)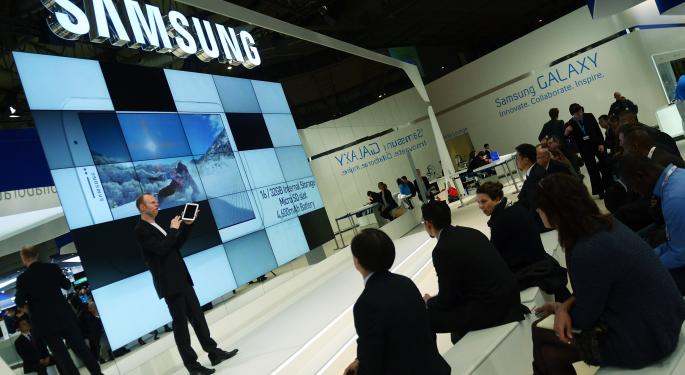 The smart watch market is often associated with Apple (NASDAQ: AAPL) and the belief that it will revolutionize mobile computing.
It wouldn't be the first time Apple pulled this off. Between the iPod, iPhone and iPod Touch, many consumers still think of Apple as the most innovative company in the world.
Even the iPad, which could be described as a bigger and more powerful iPod Touch, receives credit for boosting the tablet industry. Before its release, few consumers were interested in replacing their laptops with touchable slates. Today, millions of consumers have already made the switch. Many more are eager to do the same.
Thus, Apple has been the front runner for smart watch expectations. Consumer anticipation was raised to an all-time high when Apple CEO Tim Cook said that he thinks that the wrist is interesting.
His statement may not confirm that Apple will release a smart watch -- or iWatch -- but all signs indicate that the Mac maker is experimenting with this concept. Why else would Apple fight to secure the 'iWatch' trademark in nations all over the world?
Related: Sony Seeks Partners to Build Apple iWatch Competitors
Aside from Sony (NYSE: SNE), few manufacturers have admitted that they are developing a smart watch. Samsung (OTC: SSNLF), the company with the most anticipation after Apple, will not officially comment on its smart watch plans. But new reports continue to hint at what the company is producing.
According to The Wall Street Journal, Samsung has filed a trademark for something called "Galaxy Gear."
Samsung has not publicly stated what Galaxy Gear will be, how many devices it may encompass, or when the 'gear' will be released.
The trademark filing confirms that it will be a device for the wrist, however:
"Wearable digital electronic devices in the form of a wristwatch, wrist band or bangle capable of providing access to the Internet and for sending and receiving phone calls, electronic mails and messages," Samsung wrote in its filing. "Wearable electronic handheld devices in the form of a wristwatch, wrist band or bangle for the wireless receipt, storage and/or transmission of data and messages and for keeping track of or managing personal information; smart phones; tablet computers; portable computers."
Like most patents, this filing is not expected to result in a new product this year.
According to a previous report by The Wall Street Journal, Samsung's battery-making affiliate will not have bendable batteries ready to ship until 2016 or 2017. This could make it difficult for manufacturers (Samsung or its clients) to build a comfortable product in 2013.
In the meantime, Samsung will offer curved batteries for use in smart watches.
Louis Bedigian is the Senior Tech Analyst and Features Writer of Benzinga. You can reach him at 248-636-1322 or louis(at)benzingapro(dot)com. Follow him @LouisBedigianBZ
Posted-In: Apple Galaxy Gear iPad iPhone ipodNews Rumors Tech Best of Benzinga
View Comments and Join the Discussion!