With Bezos, Buffett And Henry Buying Newspapers, Should You?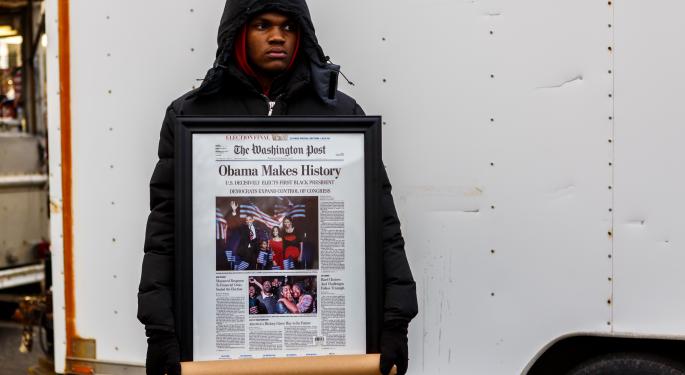 Amazon (NASDAQ: AMZN) CEO and Founder Jeff Bezos announced after the close Monday that he is set to purchase the print newspaper business of the Washington Post (NYSE: WPO) for $250 million in cash.
The move is just the latest round of sales in the print news industry as sales and profits have shrunk with the rise of digital news outlets.
Deal Terms
Bezos personally, not in any capacity with Amazon, purchased the print business for $250 million cash, subject to normal working capital adjustments, payable at the end of the year. Allen and Co. advised on the deal.
As part of the deal, Bezos will acquire he Washington Post and other publishing businesses, including the Express newspaper, The Gazette Newspapers, Southern Maryland Newspapers, Fairfax County Times, El Tiempo Latino and Greater Washington Publishing. The Washington Post company will rename itself and will retain publications including Slate magazine, TheRoot.com and Foreign Policy.
Newspaper Industry Change
Bezos follows Berkshire Hathaway (NYSE: BRK-A) (NYSE: BRK-B) CEO Warren Buffett in buying local newspapers, however Bezos' purchase is well larger than any that Buffett has made. As of March, Buffett had spent $344 million on 28 local newspapers. Notably, however, Berkshire was the largest shareholder in the Washington Post, owning 27.86 percent of the company, with the sale bringing in about $46 million for the firm.
For both of the iconic businessmen, the newspapers are a small portion of their respective wealth. However, these moves and also moves by John W. Henry, Chairman of Fenway Sports Group, purchasing the Boston Globe from the New York Times (NYSE: NYT) confirm that the industry is changing rapidly.
These multi-billionaires are investing lots of cash in what was thought to be a dying industry and raises questions as to their motives. John W Henry is a hedge fund manager and businessman, with businesses across sports, hedge fund management, and now the newspaper industry with the Boston Globe acquisition.
Warren Buffett is notorious for his value investing and his ability to create his massive conglomerate that has seen him become the richest man in the world. It is important to note that Buffett was actually inducted into the Newspaper Carrier Hall of Fame, as he was a paper boy as a child. Other notable inductees include Ross Perot, Ed Sullivan, Wayne Gretzky and President Dwight D. Eisenhower.
Further Consolidation Ahead?
Could further consolidation lie ahead in the industry? One stock to watch would be the New York Times, as it has already sold the Boston Globe. Further sales could be ahead as the company narrows its focus down to major market newspapers and digital media.
Under the New York Times umbrella, the company also owns the International Herald Tribune as well as NYTimes.com. The company also has three joint ventures, each of which it owns less than 50 percent. The company could look to sell some of these assets or potentially cash in on some of its investments in start-ups should it look to consolidate further.
Apparently, these stocks perform well following the announcements of these divestitures and as more and more insiders invest in the industry, it may be worthwhile finding investments across the industry. However, the number of investment opportunities are becoming few and far between as companies continue to narrow the focus and get bought out.
Shares Higher
Washington Post shares rose 5.15 percent pre-market to $598.00. Share of the New York Times traded higher to $12.15 after closing at $11.88 Monday while Amazon shares fell slightly pre-market. 
Posted-In: Donald Graham Fred Hiatt Jeff Bezos John W Henry Katherine WeymouthM\u0026A News Trading Ideas Best of Benzinga
View Comments and Join the Discussion!