Bad News For Apple: Android Set To Become Most Shipped Tablet (AAPL)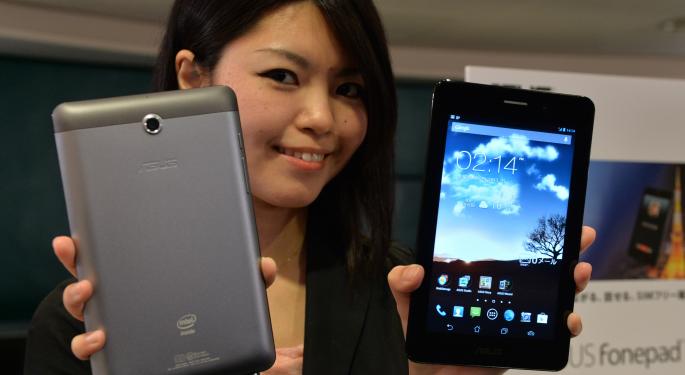 It was a sad day in Cupertino when total Android smartphone shipments surpassed iPhone shipments.
New research by Digitimes reveals that something similar may soon happen again for Apple (NASDAQ: AAPL).
According to research published Tuesday, Non-iPad tablet shipments are expected to be larger than iPad shipments in the second half of 2013.
Non iPad shipments should reach 45.07 million according to the research with more than 50 percent of global tablets adopting the Android operating system. The report said,
"The Retina display-featured iPad mini may not appear before the end of 2013 due to the panel's weak yield rate and the possibility that the device may undermine sales of the new high-end iPad. As a result, Apple's shipments in the second half may drop to 37 million units with an on-year growth of 3 percent."
This is further proof that Apple's product rollout cycle has either found itself out of synch or needs a calendar refresh going forward. Apple fans and investors have been highly critical of the company's lack of new and exciting product announcements this year. This has been a factor in the depressing stock performance during 2013.
Related: New Report Shows Samsung Tops Apple in Customer Satisfaction
But the report seems to leave open the possibility that the iPad could surpass Android devices as a new iPad mini comes to market.
The report also revealed other notable data points. Among the most notable:
Total tablet shipments should reach 82.07 million units—a year over year increase of 17.7 percent.
Even though Microsoft (NASDAQ: MSFT) lowered the cost of its Surface tablet, don't expect the company to capture any more than about 3.8 percent of the tablet market.
Qualcomm (NASDAQ: QCOM) will ship 10 million mobile processors in the second half of 2013 making it the largest CPU supplier of non-iPad tablets. Samsung (OTC: SSNLF) will become the third largest supplier and Intel (NASDAQ: INTC), a disappointing fourth.
Apple and Amazon (NASDAQ: AMZN) will continue to diversify their supply chain. Foxconn will no longer be the go-to place for most of their manufacturing.
Disclosure: At the time of this writing, Tim Parker was long Apple.
Posted-In: Amazon Android Apple Digitimes foxconn IntelNews Tech Best of Benzinga
View Comments and Join the Discussion!