Surface Pro Price Cut: New Marketing or Preparation for Surface 2? (MSFT, AAPL, AMZN)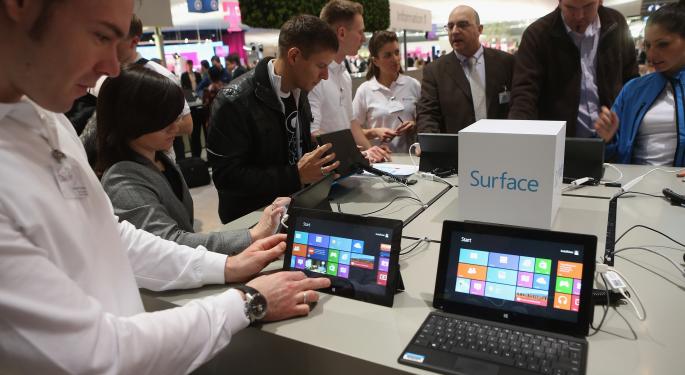 After announcing price cuts for the Surface RT tablet, Microsoft (NASDAQ: MSFT) will now be taking $100 off the price of the Surface Pro, The Verge reported.
The $100 discount will put the prices of Microsoft's tablet roughly ten percent cheaper (at $899) for the 128GB version and $799 for the 64GB version.
Last week, Microsoft announced a 900 million dollar write down on the Surface RT, which is likely more than the revenue it brought in. Reasons for disappointing sales include a late entry to the market, poor advertising, and limited sales outlets.
This announcement seems to have one of two implications. Either this price reduction is part of a new marketing initiative, or Microsoft is clearing out inventories for a new release.
New Marketing campaign?
Price cuts are not unheard of in the tablet industry and are proven to boost sales. In late 2010, Amazon (NASDAQ: AMZN) cut the price of the Kindle e-reader by 27 percent and sales soared, sending sales of their tables higher than hardcover books.
In April, Apple (NASDAQ: AAPL) cut the price of their iPad and iPad mini by roughly 30 percent. Regardless, in the three month period following the cuts, iPad sales fell 25 from the previous three months and 16 percent from the previous year.
While it is hard to determine how many units Microsoft needs to sell to break even, sales probably need to at least double. If the Surface RT had a 900 million dollar write down, and sales of all Surface models were around 900 million, sales need to surge for the company to reach profitability.
Related: Surface Revenue Falls Below Microsoft's $900 Million Write-Down
Surface 2?
Since the price cut announcement, rumors have been circling about Microsoft clearing the way for a new edition of the Surface tablet.
The electronics market is known for reducing prices before releasing updated hardware versions. Apple has consistently cut the price of their older tablets to sell alongside the newest edition. For example, Apple slashed prices of iPad 3 to sell alongside iPad 4.
According to Techradar's analysis of the industry and the experts Microsoft has been hiring, it estimates a Surface 2 release as early as June.
Shares of Microsoft are largely unmoved on the news and opened at $31.80.
Posted-In: Surface tablet Techradar The VergeNews Retail Sales Hot Trading Ideas Best of Benzinga
View Comments and Join the Discussion!