Benzinga's Weekend M&A Chatter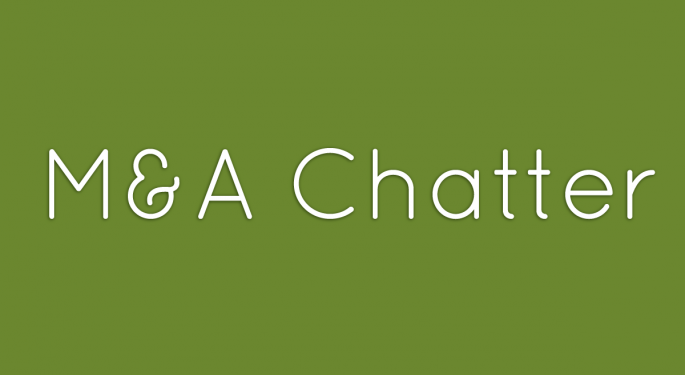 The following are the M&A deals, rumors and chatter circulating on Wall Street for Friday August 2 through Sunday August 4, 2013:
The New York Times to Sell Boston Globe, New England Media Group to John W. Henry for $70M in Cash
The Deal:
The New York Times (NYSE: NYT) announced Saturday it has agreed to sell its New England Media Group, including The Boston Globe, to an acquisition company owned by John W. Henry for $70 million in cash. The Sulzberger family bought the assets for $1.1 billion in 1993.
The deal is expected to close in 30 to 60 days.
The New York Times Company closed at $11.93 Friday, a gain of more than 1% on average volume.
IBT Media to Acquire Newsweek from IAC
The Deal:
IBT Media announced Saturday it was acquiring Newsweek from IAC/InterActive Corp (NASDAQ: IACI). The deal does not include The Daily Beast, which IAC had acquired along with Newsweek.
IAC/InterActiveCorp closed at $49.72 Friday, a loss of $0.18 on average volume.
Michael Dell, Silver Lake Agree to Increase Purchase Price to $13.75/Share, Pay Special Dividend of $0.13/Share, Guarantee Q3 Dividend of $0.08/Share
The Offer:
The Dell (NASDAQ: DELL) Special Committee announced Friday that it has entered into a revised definitive merger agreement with Michael Dell and Silver Lake Partners that increases the purchase price to $13.75 per share from $13.65 per share, provides for a special dividend payment at or before closing of $0.13 per share, and guarantees a Q3 dividend payment of $0.08 per share payable at or before closing.
A new record date has been established of August 13, 2013 for shareholders eligible to vote on the transaction at the Special Meeting to take place on September 12, 2013 at 10:00 AM ET.
Dell closed at $13.68 Friday, a gain of 5.5% on 4 times average volume.
Yahoo Acquires Rockmelt
The Deal:
Rockmelt View confirmed on its blog Friday that it has been acquired by Yahoo (NASDAQ: YHOO). Yahoo reportedly paid $60M-$70M for the social browser startup, according to AllThingsD.
Yahoo closed at $27.65 Friday, a loss of 1% on lower than average volume.
Report Charter, Cox in Merger Talks
The Rumor:
Shares of Charter Communications (NASDAQ: CHTR) soared Friday morning on a report from Bloomberg that Cox Communications has had discussions with Charter regarding a potential merger. John Malone's Liberty Media owns a 27% stake in Charter. Malone is seeking to build up Charter through acquisitions in order to gain leverage with the TV networks.
Spokespersons for Charter and Cox were not available for comment.
Charter Communications closed at $134.00 Friday, a gain of 4.72% on 2.5 times average volume.
Posted-In: News Rumors Insider Trades M&A Movers
View Comments and Join the Discussion!