Benzinga's Weekend M&A Chatter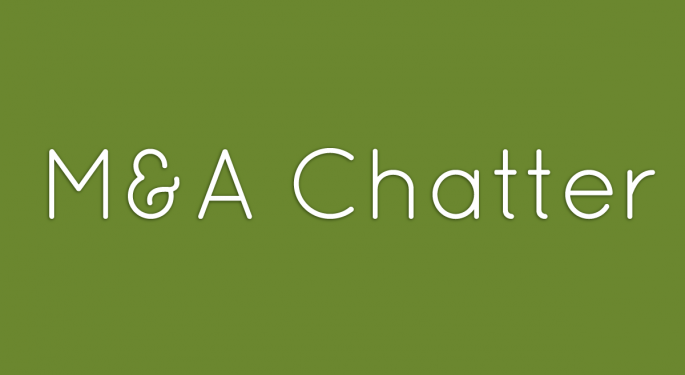 The following are the M&A deals, rumors and chatter circulating on Wall Street for Friday July 26 through Sunday July 28, 2013:
Omnicom, Publicis Groupe to Merge
The Deal:
Omnicom Group (NYSE: OMC) and Publicis Groupe (OTC: PUBGY) announced Sunday that they have agreed to a merger of equals, creating a communications, advertising, marketing and digital services company, with combined 2012 revenues of $22.7 billion / €17.7 billion and more than 130,000 employees.
The deal, first rumored on Friday, is expected to close in Q4 2013 or Q1 2014.
Omnicom Group closed at $65.11 Friday, a gain of 1.25% on average volume.
HomeStreet to Acquire Fortune Bank, Yakima National Bank
The Deal:
HomeStreet Bank and its holding company, HomeStreet will acquire Fortune Bank for approximately $27 million, and Yakima National Bank and parent holding company, YNB Financial Services Corp. for approximately $10.3 million. The combined company had approximately $3.0 billion in assets on a pro forma basis as of June 30, 2013.
The two deals are expected to close during Q4 2013.
HomeStreet closed at $22.81 Friday, a loss of $0.05 on lower than average volume.
Activision Blizzard to Acquire 429M Shares from Vivendi for $13.60/Share
The Deal:
Activision Blizzard (NASDAQ: ATVI) shares surged higher Friday, following an announcement late Thursday that the company reached an agreement to acquire approximately 429 million Activision shares from Vivendi (OTC: VIVHY) for $13.60 per share in cash, for a total of approximately $5.83 billion. Following completion of the transaction, the majority of Activision shares will be owned by the public.
An additional 172 million shares will be sold for $2.34 billion to an investor group which includes Activision CEO Bobby Kotick and Co-chairman Brian Kelly.
Activision Blizzard closed at $17.46 Friday, a gain of 15% on 5 times average volume.
Posted-In: News M&A Global After-Hours Center
View Comments and Join the Discussion!