Apple's iPhone Losing Market Share, But iPad Making Huge Inroads In Schools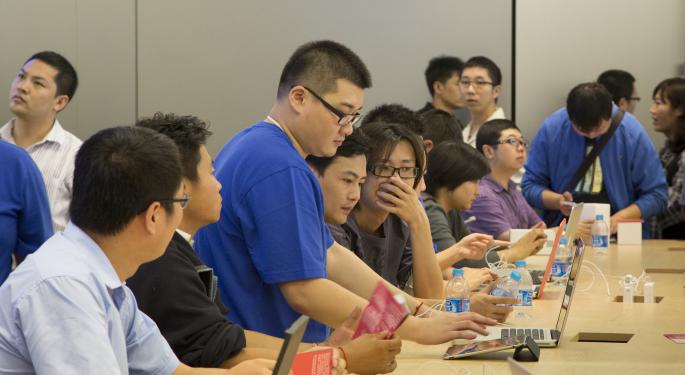 For those looking for proof that Apple (NASDAQ: AAPL) needs a low-cost iPhone, look no further than data released by Strategy Analytics but it's iPad is quietly gaining significant market share in the education market.
Samsung (OTC: SSNLF)'s handset division booked estimated profits of $5.2 billion in the second quarter of 2013. That compares to Apple's iPhone operating profit of $4.6 billion.
Global smartphone shipments reached 230 million units in the three month quarter ending June—an increase of 47 percent year over year. 33 percent of those units were Samsung phones while only 14 percent were Apple—the smallest in three years.
As many analysts have noted, lower cost handsets in emerging markets is driving much of the demand.
Neil Shah, senior analyst at Strategy Analytics said, "Strong demand for entry-level Android devices in Asia and Latin America drove much of the growth."
And according to Neil Mawston, Executive Director at Strategy Analytics, "The current iPhone portfolio is under-performing and Apple is at risk of being trapped in a pincer movement between rival 3-inch Android models at the low-end and 5-inch Android models at the high-end."
In an interview with TechCrunch, he said that although the low-cost iPhone is important for the company, a premium-tier phablet-style device with a five inch screen is where Apple is losing a significant amount of profit to Samsung.
Mawston added, "A 5-inch iPhone would generate extra value for Apple, while a cheaper iPhone would deliver extra volume."
Related: Two Tech Stories Making Headlines Thursday
But other news proves that while Apple may be losing market share in the phone market, it's continuing to find new revenue drivers for the iPad.
9to5mac reports that the Los Angeles Unified School District will purchase iPads for each of its 640,000 kids by the end of 2014. Each iPad will ship with educational apps like Apple's iWork and iLife suites, the Pearson (NYSE: PSO) Common Core System, and other third-party apps.
If Apple makes about $400 off of each iPad, that would equal profits of $256 million for this program alone.
But the longer-term gains are more notable. Not only are other schools likely to follow the lead of the LA School District, by putting an iPad in the hands of each student, Apple is growing its ecosystem exponentially. The iPad also allows textbooks to be delivered online saving the district the high cost of purchasing hard copies of the books.
Disclosure: At the time of this article, Tim Parker was long Apple.
Posted-In: 9TO5Mac Apple Los Angeles Unified School District Neil MawstonNews Events Econ #s Tech Best of Benzinga
View Comments and Join the Discussion!