SAC Capital Indicted By New York Federal Court For Wire Fraud and Securities Fraud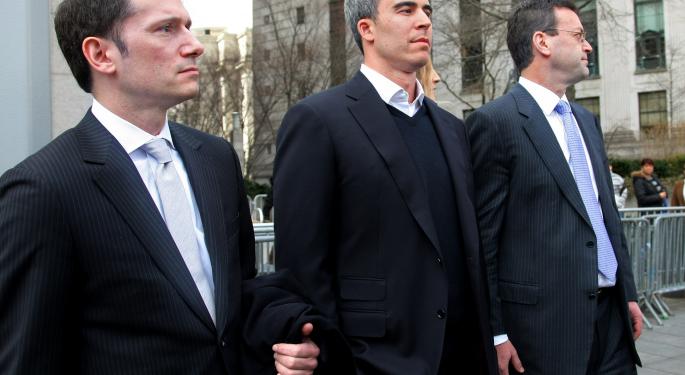 It's finally happened: SAC Capital, the legendary hedge fund run by Steven A. Cohen, has been charged in a New York federal court for one count of wire fraud and four counts of securities fraud.
The wire fraud arises from the use of insider information to dupe investors out of fees while the securities fraud charges were filed against each of the four individual funds under scrutiny.
Wire Fraud
The first count charged in the courts was for wire fraud. Wire fraud is being alleged because SAC Capital research analysts used messages transmitted over the internet to obtain inside information. They then used this information to invest client cash and boost returns, thus increasing their fees; since their fees increased, they, by default, used the information to benefit themselves and thus broke the law. The court also notes that a majority of the funds invested were from employees of SAC anyways.
The U.S. legal code defines wire fraud as the following: "Whoever, having devised or intending to devise any scheme or artifice to defraud, or for obtaining money or property by means of false or fraudulent pretenses, representations, or promises, transmits or causes to be transmitted by means of wire, radio, or television communication in interstate or foreign commerce, any writings, signs, signals, pictures, or sounds for the purpose of executing such scheme or artifice, shall be fined under this title or imprisoned not more than 20 years, or both. If the violation affects a financial institution, such person shall be fined not more than $1 million or imprisoned not more than 30 years, or both."
Related: Senate Banking Committee Hears Complaints About Big Banks From MillerCoors.
Therefore, for this count, employees named in the case (of which there are eight) face up to 30 years in prison and/or fines of up to $1,000,000 each.
Securities Fraud
Securities fraud is a lesser offense compared to wire fraud but could still add to the penalties for wire fraud. Insider trading is explicitly illegal under securities law and is covered by securities fraud. Those proven guilty face maximum penalties of fines of $5 million and five years in prison.
SAC was charged with four counts of securities fraud because four of its funds were proven to have been implicated in the scheme. The court noted the following four funds in its statement: SAC Capital LP, SAC Capital LLC, CR Intrinsic, and Sigma Capital, each of which are independent legal entities.
Notably, founder of the fund family Steven A Cohen was not directly named in the case. Three former research analysts of the firm and four former portfolio managers, including the infamous Matthew Martoma, were named in the case.
Remember, these are just indictments and the court still has to prove the case and convict those accused. Much more is yet to come as the court hearings begin.
Posted-In: News Hedge Funds Legal Management Insider Trades Hot Intraday Update Markets Best of Benzinga
View Comments and Join the Discussion!