Benzinga's M&A Chatter for Thursday July 18, 2013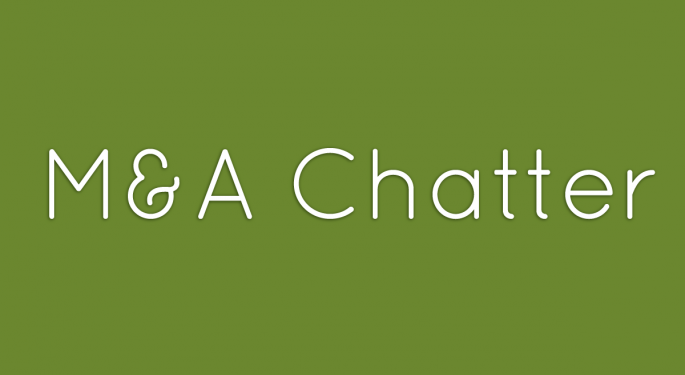 The following are the M&A deals, rumors and chatter circulating on Wall Street for Thursday July 18, 2013:
Gentex to Acquire HomeLink for $700M
The Deal:
Gentex (NASDAQ: GNTX) announced Thursday the signing of a definitive agreement to acquire HomeLink from Johnson Controls (NYSE: JCI) for $700M. Under the terms of the agreement, Gentex will acquire all of Johnson Controls' HomeLink assets, intellectual property, testing facilities, and the talented employees who manage and support the business, for a purchase price of $700 million.
The deal is expected to close on or about September 30, 2013.
Gentex closed at $23.71 Thursday, a gain of 3% on 1.5 times average volume.
Yelp to Acquire SeatMe for $12.7M in Cash an Stock Deal
The Deal:
Yelp (NYSE: YELP) announced Thursday it has agreed to acquire SeatMe, a web-based reservation solution for restaurants and nightlife. Under the terms of the deal agreement, Yelp will acquire SeatMe for approximately $2.2 million in cash and up to approximately 263,000 shares of its Class A common stock, for a total purchase price of approximately $12.7 million.
The transaction is expected to close on or about July 24, 2013.
Yelp closed at $39.75 Thursday and traded at $40.29 after-hours.
Dell Special Meeting of Stockholders Adjourned, Vote on Michael Dell $13.65/Share Offer Postponed Until July 24
The Adjournment:
Dell (NASDAQ: DELL) announced that Thursday's Special Meeting of Stockholders was convened and adjourned to provide additional time to solicit proxies from Dell stockholders. No vote was taken Thursday on Michael Dell's $13.65 per share proposal. The Special Meeting will reconvene on July 24, 2013 at 5 PM CDT.
Dell closed at $13.12 Thursday, a loss of $0.24 on almost twice average volume.
Reuters Reports Pfizer Won't Bid for Onyx
The Rumor:
Shares of Onyx Pharmaceuticals (NASDAQ: ONXX) sold off sharply late Thursday on a report from Reuters that Pfizer (NYSE: PFE) has decided not to pursue a bid for Onyx. Pfizer was one of several drug companies expected to submit bids for Onyx. Amgen's (NASDAQ: AMGN) $120 per share offer was rejected on June 30.
A spokesperson for Pfizer was not available for comment.
Onyx Pharmaceuticals closed at $128.55 Thursday, a loss of more than 3% on almost 4 times average volume.
View Comments and Join the Discussion!