Will Apple Pay to Eliminate TV Commercial Breaks? (AAPL)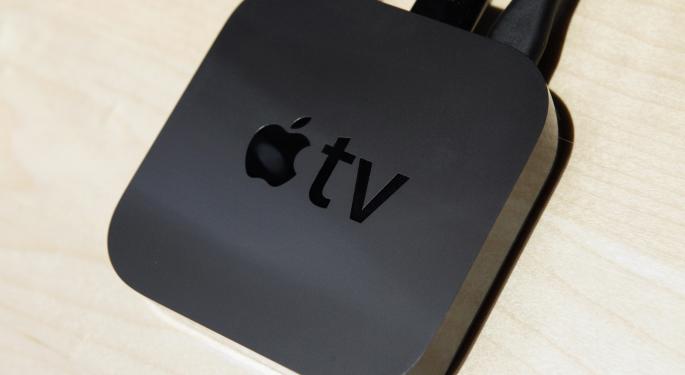 When Apple (NASDAQ: AAPL) co-founder Steve Jobs famously told Walter Isaacson that he had "cracked" the TV code, many assumed that the company would produce its own television set.
In reality, Apple may simply attempt to revolutionize TV with its existing set-top box.
According to Bloomberg, Apple is "developing ad-skipping technology that would let owners of its Apple TV set-top box and future television devices watch shows without commercials."
This technology is nothing new; TiVo (NASDAQ: TIVO) has been allowing users to skip the commercials of pre-recorded shows for many years. When Dish Network (NASDAQ: DISH) announced that it would do the same, three of the four biggest TV networks sued the satellite service provider.
Related: Is Dish Network the Most Hated Company in Television?
Unlike TiVo and Dish, Apple has taken its ad-skipping concept to at least two "owners of broadcast TV networks and cable channels," according to the report. This implies that Apple is in talks with the big conglomerates -- such as Comcast (NASDAQ: CMCSA) or CBS (NYSE: CBS), which own several channels -- rather than the heads of two individual networks.
Apple has reportedly told these owners that the company is considering a reimbursement program to make up for ads that are skipped.
Such a move would be very costly for Apple. The company would have to start by determining how much each viewer is worth. Then it would have to subtract that amount -- or a percentage of that amount -- every time an ad is skipped. Apple would later be required to pay back that money to broadcasters.
This would be a logistical nightmare for the Mac maker, and could create a lifetime of headaches for any network that agrees to the terms. For starters, every show has a different ad rate -- and a different demographic. How could a one-size-fits-all ad reimbursement rate accomplish this? If Apple is forced to apply a different rate to every show, will it be worth the expense or the effort?
And how will Apple pay for this service -- by charging customers a monthly fee?
That strategy (monthly fees) may work for cellular carriers, but Apple is not a service or software company -- it is a hardware manufacturer. The company literally earns billions of dollars selling iPhones and iPads. If it plans to maintain its position in the smartphone and tablet spaces, Apple should focus on efforts that are more likely to improve its bottom line.
Louis Bedigian is the Senior Tech Analyst and Features Writer of Benzinga. You can reach him at 248-636-1322 or louis(at)benzingapro(dot)com. Follow him @LouisBedigianBZ
Posted-In: Apple Apple TV Bloomberg Steve JobsNews Rumors Tech Best of Benzinga
View Comments and Join the Discussion!