Benzinga's M&A Chatter for Thursday July 11, 2013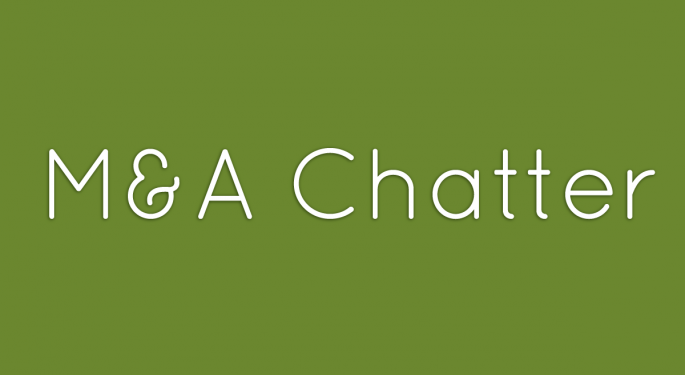 The following are the M&A deals, rumors and chatter circulating on Wall Street for Thursday July 11, 2013:
Icahn Says he will Raise Bid for Dell on Friday
The Offer:
Shares of Dell (NASDAQ: DELL) spiked higher initially after-hours Friday as billionaire investor Carl Icahn told Bloomberg's Trish Regan he will make a higher offer Friday morning for the PC maker. Icahn said the increased offer will include a warrant "around $20".
Dell shareholders are scheduled to vote on founder Michael Dell and Silver Lake's bid of $13.65 per share on July 18.
Dell closed at $13.35 Thursday, spiked as high as $13.75 during the Ichan interview, before settling back to the $13.40's.
Steel Excel to Acquire Up to a 44% Interest in iGO for $3.95/Share
The Deal:
iGO, Inc. (NASDAQ: IGOI) announced Thursday that Steel Excel (OTC: SXCL), will commence a cash tender offer to purchase up to 44.0% of the outstanding shares of the company's common stock on a fully-diluted basis at a price of $3.95 per share. Steel's obligation to complete the tender offer is subject to the tender of at least 30.0% of the outstanding shares of the Company's common stock on a fully-diluted basis.
The tender offer is expected to commence in the next two weeks, subject to the 30% minimum condition. Closing is expected 30 days thereafter.
iGO closed at $2.29 Thursday, and traded at $3.50 after-hours.
Liberty's Malone Recommends Dish-DirecTV Merger
The Recommendation:
Liberty Media (NASDAQ: LMCA) Chairman John Malone, speaking at the Sun Valley Conference, recommended Dish Network's (NASDAQ: DISH) Charlie Ergan merge with DirecTV (NASDAQ: DTV). Malone said a deal would drive economies of scale.
Robert Mercer of DirecTV, in an email to Benzinga, said "speculation about a DIRECTV-Dish marriage has been floating around since the first attempt to merge more than a decade ago and we suspect it won't end anytime soon. But our main focus has been, and always will be, to continue our industry leading growth, increase shareholder value and profitably growing our business." A DISH spokesperson was not available for comment.
DirecTV closed at $64.40 Thursday, a gain of 3.5% on average volume. Dish Network closed at $42.05, gaining 1% on average volume.
View Comments and Join the Discussion!
Posted-In: M&A News Management Insider Trades Movers