Kroger Acquires Harris Teeter for $49.38 Per Share; Will Continue Dividend Growth, Buybacks (HTSI, KR)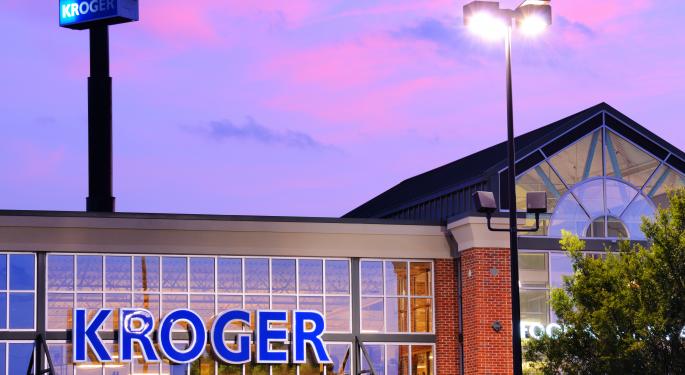 Grocery store chain Kroger (NYSE: KR) announced that it will acquire another grocer Harris Teeter (NYSE: HTSI) for $49.38 per Harris Teeter share, or about $2.5 billion, in a move into the key mid-Atlantic and Southeast markets.
The deal represents approximately a 33.7 percent premium to the closing price of Harris Teeter on January 18 when it announced it was looking at strategic alternatives.
Strategic Locations
The acquisition by Kroger represents a strategic move into key mid-Atlantic and southeastern markets including Washington D.C., Virginia, North Carolina, and Maryland. Harris Teeter had revenues of approximately $4.5 billion in 2012 and the deal price represents approximately the full enterprise value of the company, showing that Kroger paid a relatively good price and did not overpay for the value of the company.
"We are excited to welcome Harris Teeter to the Kroger family," said David B. Dillon, Kroger's Chairman and Chief Executive Officer. "Harris Teeter is an exceptional company with a great brand, friendly and talented associates, and attractive store formats in vibrant markets run by a first-class management team. They share our customer-centric approach to everything we do – from store format and merchandising to innovative loyalty programs.
"This is a financially and strategically compelling transaction and a unique opportunity for our shareholders and associates," continued Dillon. "We look forward to bringing together the best of Kroger and Harris Teeter while continuing to operate and grow the Harris Teeter brands. Together, we can continue to deepen our connections with customers across all of our markets."
Added Leverage
The deal will increase Kroger's leverage and may reduce the company's ability to continue to buyback stock or raise dividends. Kroger will assume Harris Teeter's $100 million in debt and expects to allocate some free cash flow to debt reduction to re-establish and maintain its 2.00 – 2.20 net debt to EBITDA ratio over the next 18-24 months. Kroger is committed to maintaining its current investment grade credit rating.
Accounting for some free cash flow being used to pay off debt in the next few years, Kroger sees the deal being accretive to earnings next year, in fiscal year 2015. Kroger sees earnings being boosted $0.06-0.09, excluding the costs of the acquisition.
Kroger also expects costs savings to total $40-50 million per year on economies of scale. "Kroger has a strong history of achieving synergy goals," the company said in the statement. "Being patient in achieving those goals reduces the risk of the transaction and sets the stage for sustainable growth."
New Profile
The new Kroger will now operate 2,631 supermarkets across 34 states and the District of Columbia and will employ over 368 thousand people. Thomas W. Dickson, Chairman of the Board and Chief Executive Officer of Harris Teeter stated, "Harris Teeter has a long track record of creating shareholder value and this merger is the culmination of those efforts over many years."
"We are excited about becoming part of The Kroger Co., one of the best food retailers in the U.S. while maintaining the Harris Teeter banner, our management teams, our new store growth plan, our distribution and manufacturing facilities in North Carolina as well as our headquarters in Matthews, NC," continued Dickson. "As part of Kroger, Harris Teeter will be well equipped to continue to provide our customers outstanding quality and customer service as well as excellent value in an increasingly competitive market."
Shares React
Kroger shares initially sold off on the news but then rallied to a pre-market high of $36.74, +1.55 percent, on the news that the company would continue its dividend growth and buyback and gain access to key markets at a relatively good price. The shares made a new 52-week high pre-market.
Meanwhile, Harris Teeter shares initially popped on the news but then sold off slightly. Shares popped as high as $49.81 before retreating to the current $48.90, +0.78 percent.
Posted-In: M&A News Guidance Dividends Buybacks Hot Pre-Market Outlook Markets Best of Benzinga
View Comments and Join the Discussion!