Starbucks – It's Not Just for Coffee Drinkers Anymore (SBUX)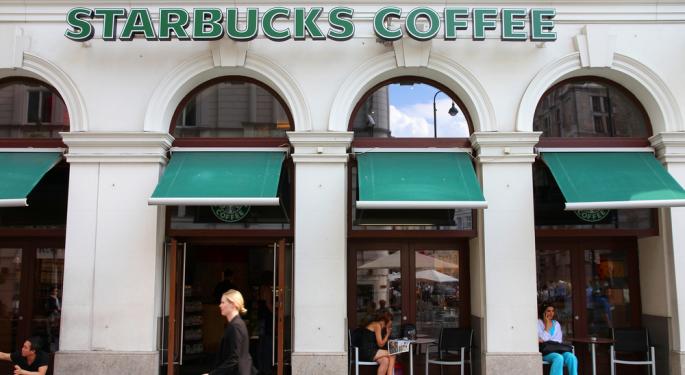 When you hear the name, Starbucks (NASDAQ: SBUX), if you're like most people the first thing you think about is coffee.
Starbucks would like to change your thinking – at least to some extent. According to Bloomberg Businessweek, it would also like you to think about soda. Specifically "handcrafted" soda, at $2.49 a pop, in lemon ale, spiced root beer and ginger ale flavors.
It all started as an experiment in Seattle that expanded to Austin and Atlanta. The question is, why? Starbucks is well-known for coffee, all sorts of coffee, in all sorts of sizes including tall, grande and venti. Why confuse people by adding soda to the menu?
Bloomberg asked Starbucks and the reply was puzzling. Starbucks spokeswoman Lisa Passe said, "We test products to help us understand how new product extensions can fit within our customers' daily routine—throughout the day."
Michael Schaefer, head of beverages and food service research at Euromonitor International, had a better answer. He said that the chain is trying to attract customers and drive up sales during the afternoon hours when many people simply don't want a cup of coffee.
In addition, offering soda creates an option for parents with children who, for the most part, are not coffee drinkers but are big on sugary soft drinks. Adding to the plus side is the fact that the profit margins on soda are about the same as those for coffee. In Starbucks World that means "high." Beverages, in general, are big profit drivers in the food and beverage industry and Starbucks is no exception.
Related: New Soft Drinks Coming in 2013
Starbucks is not alone in trying to increase sales in the hours between lunch and dinner. Pointsmith noted that other chains such as Sonic (NASDAQ: SONC) and Yum! Brands, Inc. (NYSE: YUM) owned Taco Bell have started "happy hour" promotions with discounts on beverages and snacks.
Schaefer, however, said Starbucks is mostly interested in broadening the brand's identity across a wider range of beverages and foods. As a result, the company has added smoothies, baked goods, and even wine to the menu. It even eliminated the words "Starbucks coffee" from its logo in 2011.
According to The Wall Street Journal, these moves, plus the $30 million buy of juice maker Evolution Fresh Inc., tea seller, Teavana Holdings Inc. for $620 million, and San Francisco based Bay Bread are also part of the company's attempts to expand its supermarket line-up.
One thing Starbucks wanted to make crystal clear, according to Chief Executive Howard Schultz, was that all the new offerings, including sodas, do not mean the coffee business is in trouble.
At the time of this writing, Jim Probasco had no position in any mentioned securities.
View Comments and Join the Discussion!
Posted-In: Bay Bread Euromonitor International Evolution Fresh Inc. Happy HourNews Retail Sales Events Media Best of Benzinga