Supreme Court Ruling a Win for Ethanol Producers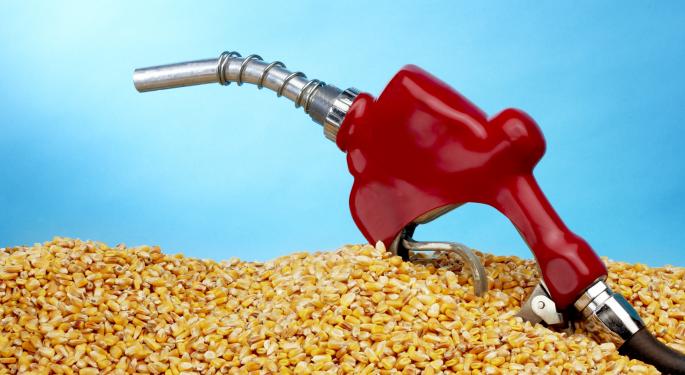 On Monday, Supreme Court justices let a lower court ruling stand that rejected an attempt by the American Petroleum Institute and others to block sales of E15 or "high ethanol" gasoline according to Farm Futures.
In saying it would not address the D.C. Circuit Court's decision, the Supreme Court, in effect, agreed with the lower court that the petitioners did not have standing to challenge the E15 waivers. The partial waivers permit the sale of gasoline containing 15 percent ethanol, as opposed to the more standard blend of 10 percent,
Ethanol primarily comes from corn, although it can also be made from wheat, barley and sugarcane, according to Bloomberg Businessweek. When the demand for corn (and other farm grains) goes up, farmers prosper.
When farmers prosper, so does the commodity market, including ETF Teucrium Corn (NYSE: CORN). Other winners in Monday's ruling include major producers of ethanol like Archer Daniels Midland Company (NYSE: ADM), Green Plains Renewable Energy (NASDAQ: GPRE), and Valero Energy (NYSE: VLO).
The losers include, first of all, the oil industry group, represented by the American Petroleum Institute and including companies such as Exxon Mobil  (NYSE: XOM), BP (NYSE: BP), and Chevron (NYSE: CVX).
Also on the losing side, food producers such as Tyson Foods (NYSE: TSN) and restaurants including Darden Restaurants (NYSE: DRI), The Wendy's Company (NASDAQ: WEN) and others who fear higher demand for corn (and other grains) for fuel will drive up food prices and affect their bottom lines.
In addition, engine manufacturers have expressed concern that the effects of the use of E15 are not known and that its use could damage engines, bringing about warranty claims, lawsuits, and other actions detrimental to their businesses.
The fight, of course, is all about the future. Currently, according to The Associated Press, E15 is only sold in about two dozen stations in the Midwest. The Supreme Court ruling, however, could change that. So could potential future decisions by the Obama administration requiring more ethanol in gasoline.
The Associated Press reported that Tom Buis, CEO of Growth Energy, an ethanol industry group, said, "Now that the final word has been issued, I hope that oil companies will begin to work with biofuel producers to help bring new blends into the marketplace that allow for consumer choice and savings."
The American Petroleum Institute naturally took a different tact. Harry Ng, API vice president and general counsel told The Associated Press, "EPA approved E15 before vehicle testing was complete, and we now know the fuel may cause significant mechanical problems in millions of cars on the road today."
While the impact of E15 on this year's corn crop will likely be minimal due to the small number of retailers currently selling the fuel, the long-term effects of this battle matter.
At the time of this writing, Jim Probasco had no position in any mentioned securities.
View Comments and Join the Discussion!
Posted-In: News Sector ETFs Commodities Politics Topics Legal Markets Media Best of Benzinga