Wal-Mart's $15.6 Billion Retirement Plan Said To Be Open To Bids, But Banks Remain Hesitant (WMT)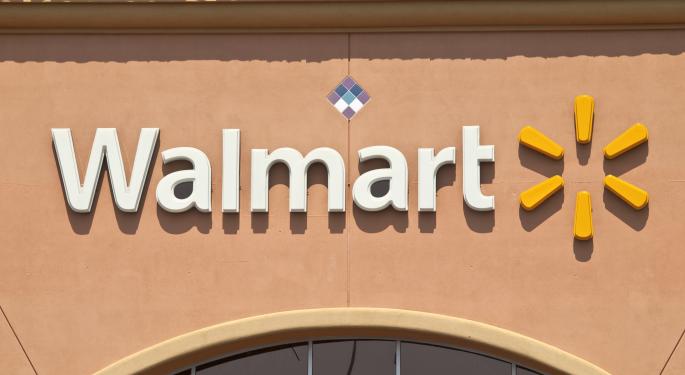 Wal-Mart's (NYSE: WMT) $15 billion package of 401(k) retirement accounts may be up for grabs after reports circulated that the company is considering switching the bank that holds the accounts.
Currently, Bank of America (NYSE: BAC) holds the accounts but the retailer may be looking to switch banks.
Rare Opportunity
Wal-Mart has had its plan with Bank of America for 15 years and opportunities for banks to get hold of such a large chunk of assets come up very infrequently. Wal-Mart has the largest private sector retirement plan at a massive $15.6 billion and thus it would seem logical that banks would swirl for the plan.
However, the only banks reported to be in the running by Reuters are the current holders, Bank of America, and Wells Fargo (NYSE: WFC). This seems strange given the sheer magnitude of the account and the ability to boost assets under management for a bank with the $15 billion plan, however looking at the account dynamics makes the Wal-Mart plan look much more unattractive than at first glance.
Small Accounts, Higher Costs
BrightScope, a company that ranks retirement plans, currently views Wal-Mart's plan as average. Although the company's plan has relatively low fees and has average participation rates, the average account size of a Wal-Mart retirement account is low. The average account size for a Wal-Mart employee saving for retirement is a mere $15,000 compared to the national average of $63,000.
The smaller account sizes mean that there are more people per dollar of asset managed by the bank. Thus, the banks have to work harder and employ more labor-hours of costs to manage incremental dollars which is why asset managers tend to focus on high-net worth clients with lots of assets.
Wal-Mart has 1.2 million employees under its current plan, which is a staggering number. One rationale for the account sizes being small at Wal-Mart is the use of more part-time workers along with the high turnover rate of employees. In this regard, employees do not have time to build large savings before moving on to another job elsewhere.
Stock Reaction
Wal-Mart shares rose 1 percent Friday to $73.75 per share while Bank of America shares declined 1.24 percent to $12.73 and Wells Fargo rose 2.39 percent to $41.04.
Posted-In: 401(k) BrightScopeNews Rumors Contracts Intraday Update Markets Media Best of Benzinga
View Comments and Join the Discussion!