Benzinga's M&A Chatter for Thursday June 20, 2013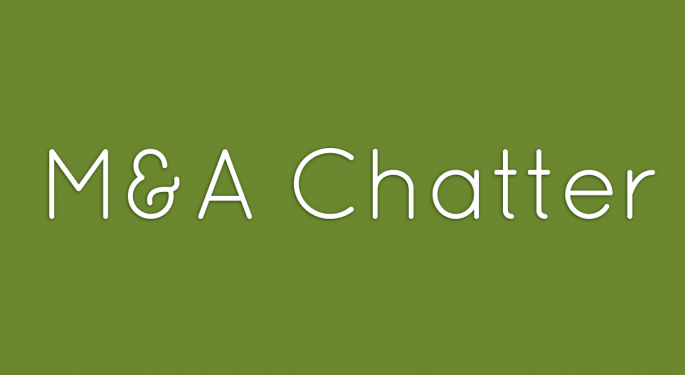 The following are the M&A deals, rumors and chatter circulating on Wall Street for Thursday June 20, 2013:
Clearwire Special Committee, Board Recommend Shareholders Approve $5.00/Share Offer
The Revised Offer:
Sprint (NYSE: S) and Clearwire (NASDAQ: CLWR) announced Thursday that they have agreed to amend Sprint's agreement to acquire the approximately 50 percent of Clearwire it does not currently own for $5.00 per share. That would value Clearwire at approximately $14 billion.
Sprint's offer is 14 percent higher than DISH Network's (NASDAQ: DISH) May 29 tender offer of $4.40 per share.
Clearwire closed at $5.05 Thursday, a gain of 7% on 4 times average volume.
Report AT&T has Interest in Telefonica
The Rumor:
AT&T (NYSE: T) reportedly has explored the possibility of acquiring part of Telefonica (NYSE: TEF) or acquiring some foreign assets, according to Bloomberg. Spanish authorities are said to have not been interested in a deal to sell as much as 30% of Telefonica to the U.S. Telecommunications giant, according to sources.
A spokesperson for AT&T declined comment on the report. A Telefonica spokesperson was not available for comment.
Telefonica closed at $12.96 Thursday, a loss of 2.5% on twice average volume.
Ebix, Goldman Sachs Affiliate to Terminate Merger Agreement
The Merger Agreement Termination:
Shares of Ebix (NASDAQ: EBIX) plunged 50% Thursday as Ebix and an affiliate of Goldman Sachs (NYSE: GS) announced late Wednesday their agreement to terminate their previously announced merger agreement. The merger agreement, announced on May 1, 2013, had provided for Ebix to be acquired by an affiliate of Goldman Sachs for $20 per share in cash.
The termination was based on notification on June 14, 2013 from the U.S. Attorney for the Northern District of Georgia that it had opened an investigation into allegations of intentional misconduct, following notice of pending shareholder class action lawsuits against the Company's directors and officers.
Ebix closed at $11.00 Thursday, a loss of 44% on 22 times average volume. Ebix had traded under $10.00 in the pre-market.
View Comments and Join the Discussion!