Fox to Take on DISH Kangaroo in Court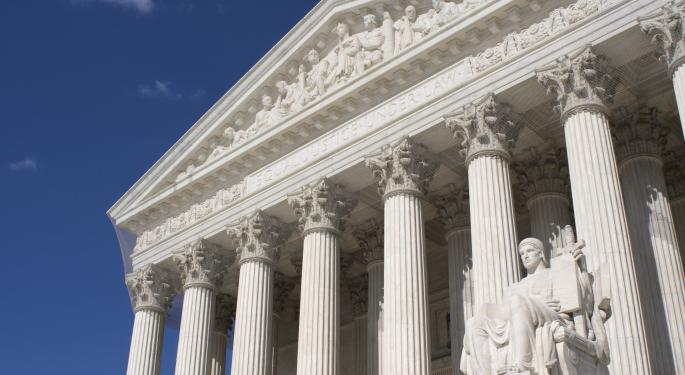 DISH Network (NASDAQ: DISH) wants you to be free to skip past its commercials for AutoHop – a DISH feature that lets you skip past commercials.
News Corp's (NASDAQ: NWSA) Fox Broadcasting Co. wants to force you to watch AutoHop ads, but doesn't want you to use the feature.
If that's not irony, there's no such thing.
According to Bloomberg, Fox will ask a federal appeals court Tuesday to overrule a district judge's ruling allowing AutoHop.
AutoHop is part of DISH Network's highly touted multiroom DVR featuring a kangaroo mascot and a bunch of people yelling "Hopper," at each other in TV ads. DISH called it "innovative." Fox said it's a "threat."
Lawyers for Fox claim Dish's PrimeTime Anytime and AutoHop services infringe Fox's copyrights and breach Dish's license agreement with Fox, Bloomberg reported.
In a December 13 filing, Fox was careful to note that, "This appeal does not challenge VCRs, DVR, or viewers' ability to select and record programs for later viewing." Rather the charge is that the DISH Hopper service allows for copying Fox's copyrighted content and offering it to subscribers "commercial-free."
This, Fox said, threatens ad-supported prime-time television. Fox is not alone in its contention. Walt Disney's (NYSE: DIS) ABC, CBS Corp. (NYSE: CBS), Comcast Corp.'s (NASDAQ: CMCSA) NBC, Fox affiliate associations, and the National Association of Broadcasters have all filed in support of Fox.
In their filing, network affiliates associations said, "AutoHop is an unprecedented threat to the basic economic model undergirding free and local television."
Recording prime-time content, of course, isn't new. Neither is the ability to fast forward past commercials. AutoHop, from a technology standpoint, takes things a step further. By touching a single button, viewers can automatically skip all commercials on recorded shows.
The crux of DISH's defense is that Hopper is nothing more than a "souped-up" DVR. DISH said the Hopper does exactly the same things VCRs did in 1984 – just more easily.
So far, the court agrees. Fox and "friends" hope to change the court's mind in this latest appeal.
In an interesting side note, reported by Ars Technica, the legal battle between Fox and DISH led to a journalistic clash. According to the website, CNET's editorial staff voted to give Dish the top award at this year's Consumer Electronics Show, but the decision was nixed by CBS because the network has its own lawsuit against DISH over the Hopper.
In early trading Tuesday DISH shares were up slightly at $38.71 or 0.18 percent.
At the time of this writing, Jim Probasco had no position in any mentioned securities.
Posted-In: CBS Corp. Comcast Corp. Dish NetworkNews Legal Events Tech Media Best of Benzinga
View Comments and Join the Discussion!