Royal Caribbean Ship Catches Fire Monday - Stock Down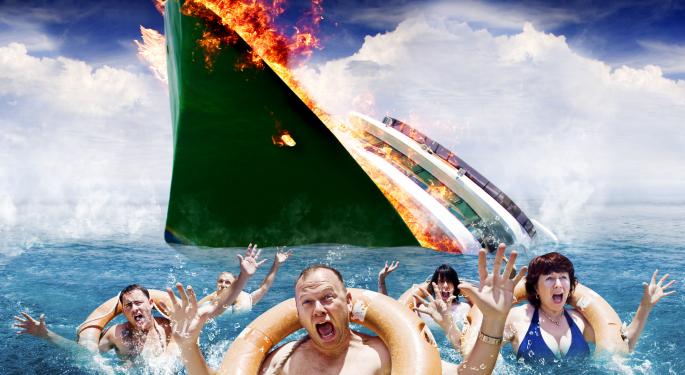 Think about this: There are more than 28,000 commercial flights taking off in the United States each day yet very few have such a catastrophic mechanical failure that it results in the flight crashing.
In fact, in many years, there are zero mechanical failures of that magnitude out of more than 10 million flights. Even a fire on an aircraft becomes breaking news because it's so rare.
 There are considerably less cruises each year in the United States yet the amount of large-scale mechanical incidents is immense compared to the airline industry. On Monday, another incident was added to the list.
Royal Caribbean's (NYSE: RCL) Grandeur of the Seas was on its way to CocoCay, Bahamas from Baltimore when it experienced a fire. This wasn't one of those fires where the media shows you a picture of the ship and you say to yourself, "Ok…where's the fire?"
Take a look at this image and what you see is something that could have become something of Titanic proportions if it weren't for an obviously well-trained crew that kept it contained to the stern of the ship.
The ship never lost power and was able to sail into port with no reported injuries. Passengers had to stay at their muster stations for four hours while the fire was contained. (A muster station is where passengers report to exit the ship on lifeboats if an emergency occurs.)
Royal Caribbean is giving passengers a full refund and a voucher for another cruise. It also chartered flights to return passengers to Baltimore. No cause of the fire has been released although the NTSB and other agencies are investigating.
This follows other recent problems with both Royal Caribbean and Carnival (NYSE: CCL) that have caused a bumper crop of negative publicity for the cruise industry. How much the industry will suffer from what has been a PR nightmare in 2013 is still unknown.
What we do know is that the cruise industry is growing about as fast as college tuition. Since 1980, the industry has grown an average of 7.4 percent and shows no signs of letting up. New and much larger ships are being added to fleets frequently and more than 15 million passengers will sail this year.
But Carnival recently stated that it had to cut fares to entice higher capacity—not a good sign for an industry that relies on full cruises to make money.
When cruise ships are stranded at sea, experience large viral outbreaks, or the back of the boat goes up in flames, it's not a company issue. It's an industry issue.
Royal Caribbean was down more than one percent in pre-market trading
Disclosure: At the time of this writing, Tim Parker had no positions in the equities mentioned.
Posted-In: News Events Best of Benzinga
View Comments and Join the Discussion!