Consumer Reports Crowns New Airline Highest in Customer Satisfaction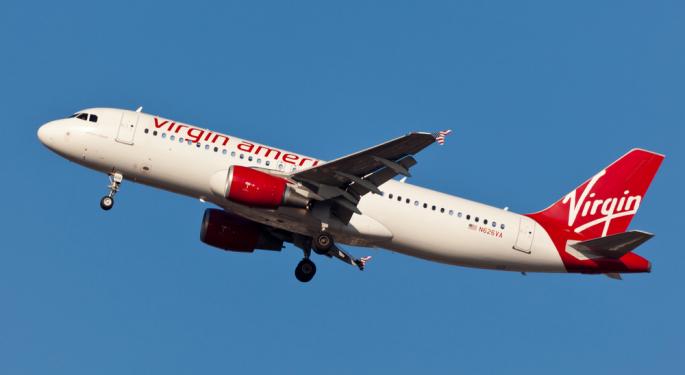 First, Consumer Reports gives Tesla (NASDAQ: TSLA) its highest ranking ever and now it is placing a new name at the top of its best airlines list. Is Consumer Reports getting soft in its older age? Here's what it said:
"If you're tired of airline flights that leave you too frazzled to enjoy your trip, we have a new recommendation for you. Virgin America, a newcomer to our ratings, got a clear thumbs-up from readers in our latest survey, with some of the highest scores we've seen in years."
That's pretty big praise that Sir Richard Branson, founder and chairman of Virgin Group, will surely use in a fresh round of marketing.
The Consumer Reports survey compiled responses from more than 16,000 readers that critiqued 31,732 flights. The praise for Virgin America included high marks for the leather seat cushions in coach class. One reader said, "The leather seat cushions are so nice in coach, there's no reason to fly first class,"
If you've flown on Virgin America you know that cabins feature magenta and violet mood lighting, Wi-Fi throughout the plane, seatback entertainment systems that not only provides free movies and TV but games, music and the ability to order food and beverages (for the attractive person sitting a few rows ahead of you—seriously).
Which airline was at the bottom of the list? Spirit Airlines (NASDAQ: SAVE). Apparently, Spirit is the embodiment of, "you get what you pay for." Not only was it at the bottom, it was the worst across the board and according to the magazine, one of the lowest overall scores of any company it has rated—ever.
Sure, you can get a seat that is up to 90 percent less than other carriers, according to George Hobica, founder and editor of Airfareatchdog, but to book the flight, you're going to pay $10 to $19, if you bring anything other than a purse or backpack with you, you're going to pay a carry-on fee of $35 to $100 per bag, and a soda will cost you $3.
And if you're taller than six feet, your knees will likely be wedged against the seat in front of you. The bottom like here may be that you would be better served buying the company's stock than flying on its aircraft. The stock is up 76 percent in the past six months but customer satisfaction is exceedingly low. Not exactly the great fundamental picture going forward.
Disclosure: At the time of this writing, Tim Parker had no position in the mentioned stock and since he is taller than six feet, he will not be flying Spirit.
Posted-In: Spirit Airlines Tesla Virgin AmericaNews Retail Sales Topics Events General Best of Benzinga
View Comments and Join the Discussion!