Fox's New Reality Show Helps Everyday People Fire Their Co-Workers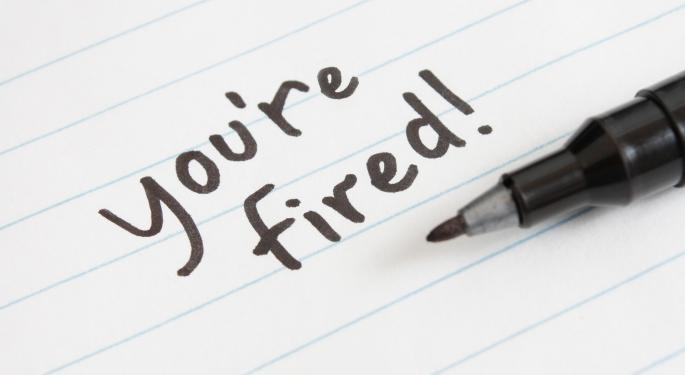 If you have ever worked with someone who was lazy, ineffective or just plain wrong for your company, Fox's new reality show could be right up your alley.
The News Corp.-owned (NASDAQ: NWS) network is launching a new series, Does Someone Have to Go?, this Thursday at 9:00 p.m.
"The concept and the creation of Does Someone Have to Go? is basically us trying to get into the work space," Executive Producer Cris Abrego told Benzinga. "With a lot of shows out there having some success in work, we wondered how we could take a fresh approach to that space. For us, we looked at one of the things that was probably the most relatable idea when you think of all the companies across the country, [which is that] most employees in a company think they know better than the boss. Really, that became the jumping off point for this project -- giving employees the opportunity to run the company."
The teaser trailers indicate that at least one person will be fired from his/her real job. Abrego confirmed that assumption.
"You absolutely will [see that happen]," he said. "The idea is basically, in some cases where the owners are the actual boss, they come to the company -- and this has nothing to do with the performance, the companies we're working with do very well, and they're all very successful companies in their own right. But the idea is that some of the options are toxic, some of them are dysfunctional. The employees think they know better.
"What happens is, the owners come in and say, 'Alright guys, you think you know better -- for the next 48 hours I'm gonna give you guys complete control of the company. Whatever you decide, I'm gonna honor it -- whether you promote somebody, demote somebody, give them a salary increase or give them a salary decrease. Of course, ultimately, if you all as a group collectively decide to let someone go, then I'll honor that too.'"
Abrego said that in their new roles as bosses, every employee must be given some of the same information that a boss would normally possess.
"Therefore, one of the things that we do is reveal everyone's salary to each other, so everyone knows what they're making," said Abrego. "The other thing is, we let them hear what all their peers think of [each other]."
Unlike other reality TV shows, which might be a full-time job for those who participate, Does Someone Have to Go? purposely chose to film on the weekend to prevent any potential disruptions in productivity.
Abrego, a reality TV veteran and owner of 51 Minds (a reality TV production company), said that there is "definitely a compensation [package] in place" for those who are fired during the course of the show. He declined to reveal how much will be given to those who are terminated.
No one is forced to participate, however. After the company owners have signed up to be a part of the show, Abrego's team approaches the firm's employees to see who is interested in joining the series for a weekend.
As far as the show's target market is concerned, Abrego believes that it is "anyone who has a job."
"Anyone who's been in the workforce," he said. "Anyone who understood what it means to work with a bunch of different people [with different] personalities -- that would be our audience."
Abrego is also working on Whodunnit?, a new reality series for Disney's (NYSE: DIS) primary television network, ABC.
"[It's] another cool, fresh format and it's a lot of fun," Abrego said of the show, which was created by CSI creator Anthony Zuiker. "Think Agatha Christie: And Then There Were None. There's 13 contestants, one of them is the killer, and each week one of them is going to be killed if they don't find the killer fast."
Abrego referred to both shows as "genuinely fresh concepts."
"Nothing derivative is really in there," he said. "In fact, neither of the two shows that I'm doing have a host to start with. [Does Someone Have to Go?] really gets back to what reality TV was eight years ago when it was a social experiment and you got to see people really being themselves in their own environment. It wasn't overly hyped or overly produced."
Louis Bedigian is the Senior Tech Analyst and Features Writer of Benzinga. You can reach him at 248-636-1322 or louis(at)benzingapro(dot)com. Follow him @LouisBedigianBZ
Posted-In: ABC Cris Abrego Does Someone Have to Go? FoxNews Entrepreneurship Success Stories Media Best of Benzinga
View Comments and Join the Discussion!