The 8 Possible Changes Tumblr Users Can Expect from the Yahoo Acquisition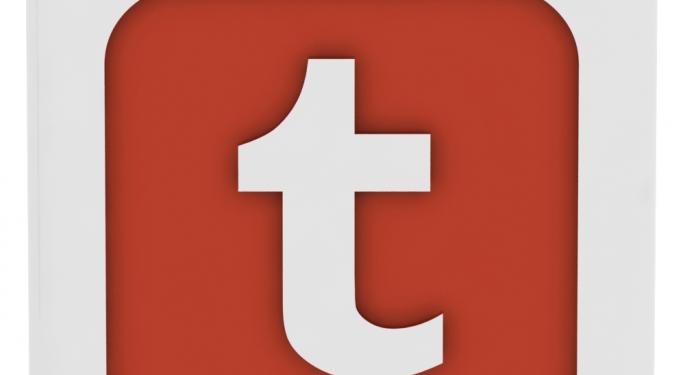 With Yahoo's (NASDAQ: YHOO) acquisition of Tumblr receiving the thumbs up from its board, pundits from across the web have engaged in all sorts of speculation about the merits of the Marissa Mayer-led purchase of the trendy social network.
The $1.1 billion acquisition is Mayer's biggest gamble yet, as well as her first major litmus test as CEO of the search and email giant.
While there's plenty of reasons to be excited, as well as skeptical, the deal is done, folks.
It's very unlikely Yahoo will risk offending Tumblr's passionate user base by tinkering with any features too soon, but down the line, there will definitely be changes to David Karp's navy blue baby.
Here are eight very possible changes that Tumblr users can expect from the Yahoo acquisition.
Follow Alex Biles at @perfectlyaloof.
Posted-In: slideshow Tumblr YahooNews Rumors M&A Tech General Best of Benzinga
Close Next 1/8 Previous
There will be more ads on Tumblr. Loads more.

Yahoo CFO

Ken Goldman said

ad revenues will "ramp up" in 2014 and "beyond," meaning more ads.

While Tumblr has introduced minimally invasive ads to this point, one can expect Tumblr dashboards to begin filling up with the newly-released "Yahoo Stream Ads" sooner than later, not unlike Facebook's news feed.

Mayer has made it clear that she'd like any advertising to be seamless and organic, but ultimately it will be up to Tumblr users to decide whether those ads are worth staying around.

Yahoo also wants to work with willing users to provide advertisements on their blogs. This could be a lucrative partnership between Yahoo and bloggers, assuming there's a revenue split somewhere. (Photo: TechCrunch).

Yahoo may have to "cleanse" Tumblr of its vast stores of pornography at some point.

For many users, one of the biggest draws of Tumblr is its laissez-faire, open attitude on art, music, pornography and the like.

The confluence of pornography on Tumblr is not merely the province of pervs -- it's very common for pornography to be re-blogged or appear on the dashboard of a typical user.

For the time being, Marissa Mayer has said she will "let Tumblr be Tumblr," and thus far, users' ability to filter which blogs they follow has rendered porn a non-issue.

But if Mayer imagines growing the social network outside of a liberal 13-24 demographic, chances are pornography will become an issue at some point.

Not to mention, most pornographic content shared on Tumblr is not created by users. Will Yahoo enforce copyright laws? (Photo: Wikimedia Commons).

Yahoo will enforce copyright infringement.

The majority of content on Tumblr blogs is not created by users themselves, but rather re-blogged or re-posted.

This poses a plethora of questions about whether Yahoo will enforce copyright laws, especially with plans to monetize the site with advertisements.

Whether it's a Warner Bros. movie still or a vintage photograph belonging to McDonalds, the specter of stricter copyright enforcement poses an existential threat to Tumblr as we know it.

Will Yahoo turn a blind eye? Or will it aggressively pursue violators like YouTube has done? Yahoo's actions will likely be somewhere in the middle.

Yahoo Search will power Tumblr.

Mayer expects Yahoo's search technology to play a major role in its new relationship with Tumblr.

This could be mutually beneficial, as Tumblr users may be able to find blogs and users easier. Yahoo also hopes to boost its search traffic with help from Tumblr users.

A switch to Yahoo's privacy policy should worry Tumblr users.

Instagram users erupted last year

at a revised privacy policy that granted Facebook the ability to sell photos to advertisers. The outrage prompted Facebook to abandon these plans and Instagram's privacy policy stayed largely the same.

As Benzinga reported earlier this month, Yahoo has a

notoriously shoddy privacy record

. Marissa Mayer and company do not require a warrant for governments to access your data, and will not notify you in the case that a breach does occur.

Also, unlike Tumblr, Yahoo has no published privacy guidelines for dealing with law enforcement.

If Yahoo extends its current policy to encompass Tumblr, users may be livid, and deservedly so.

Tumblr could lose its luster among its core demographic.

A large part of Tumblr's success has been its anonymity and viability as a Facebook alternative where one doesn't have to worry about the snooping of parents, friends or co-workers.

To users' dismay, the brand's new affiliation with Yahoo and the press from the acquisition are sure to bring a spike in the social network's number of users.

If the Tumblr ecosystem continues to expand beyond its core base aged 13 to 24, it seriously risks over-saturation and the same loss of "cool" that's driven teens away from Facebook. If the Tumblr acquisition fails, this could be a major reason why.

Will Marissa Meyer require users to adopt Yahoo logins?

Mayer didn't directly address whether users will be forced to adopt Yahoo logins for integration or data collection purposes.

She did, however, cite eBay-Paypal and Google-YouTube as examples of successful models of a balance between brand independence and integration.

With that said, one can't rule out a transition down the line. Yahoo would love nothing more than to add Tumblr's 300 million bloggers to its user base.

Tumblr and Flickr integration is likely.

The prospect of integration between Yahoo-owned Flickr and Tumblr is one of the most exciting prospects of the new deal.

While Mayer says she hasn't looked at specific integrations, Flickr could further boost Tumblr's credibility as a photographer's haven with higher resolution photos and effects. In addition, slideshows and other multimedia features could be integrated.
View Comments and Join the Discussion!