Benzinga's M&A Chatter for Thursday May 16, 2013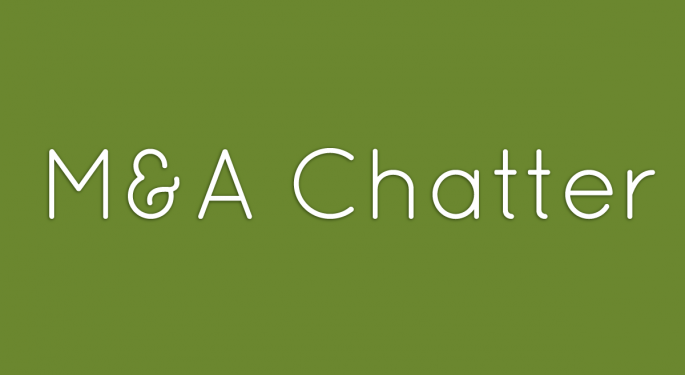 The following are the M&A deals, rumors and chatter circulating on Wall Street for Thursday May 16, 2013:
Aruba Networks Acquires Meridian
The Deal:
Aruba Networks (NASDAQ: ARUN) announced Thursday the acquisition of privately-held startup Meridian Apps, Inc. With this acquisition, Aruba Networks enables new location-based services by combining its unique, network-based contextual information about users, devices and applications with Meridian's Wi-Fi based wayfinding solution for smartphones and tablets.
Aruba Network closed at $17.61 Thursday, and traded down 12% after-hours, as the company reported an earnings miss.
Crest Financial Urges Clearwire Stockholders to Vote Against Sprint-Clearwire Merger
The Shareholder Letter:
Clearwire's largest of the independent minority stockholders (NASDAQ: CLWR) Crest Financial sent a letter to Clearwire stockholders on Wednesday detailing why it is asking Clearwire stockholders to reject the proposed merger with Sprint Nextel Corporation (NYSE: S).
The letter reiterates Crest's belief that Clearwire and its trove of spectrum is "the ultimate prize in the intensifying battle for Sprint." The Sprint effort to merge with Clearwire is really "an attempt to take value from the Clearwire stockholders without offering them fair value," the letter states.
Clearwire closed at $3.23 Thursday, a gain of $0.03 on average volume.
Freeport-McMoRan, Plains Exploration Announce Preliminary Results of Merger Consideration Election
The Merger Vote:
Freeport-McMoRan Copper & Gold (NYSE: FCX) and Plains Exploration (NYSE: PXP) announced Thursday the preliminary results of the elections made by PXP stockholders regarding the form of merger consideration to be received in connection with FCX's pending acquisition of PXP, which is currently expected to be completed on May 20, 2013.
As of the election deadline of 5:00 PM ET on May 15, 2013, holders of approximately 38,503,126 PXP shares, or approximately 29.1% of the outstanding PXP shares, elected to receive cash; holders of approximately 60,231,439 PXP shares, or approximately 45.5% of the outstanding PXP shares, elected to receive FCX common stock; and holders of approximately 33,550,726 PXP shares, or approximately 25.4% of the outstanding PXP shares, did not make a valid election or did not deliver a valid election form prior to the election deadline.
Plains Exploration closed at $45.12 Thursday, a gain of $0.33 on almost twice average volume.
Posted-In: News M&A After-Hours Center Movers
View Comments and Join the Discussion!