Benzinga's M&A Chatter for Tuesday May 7, 2013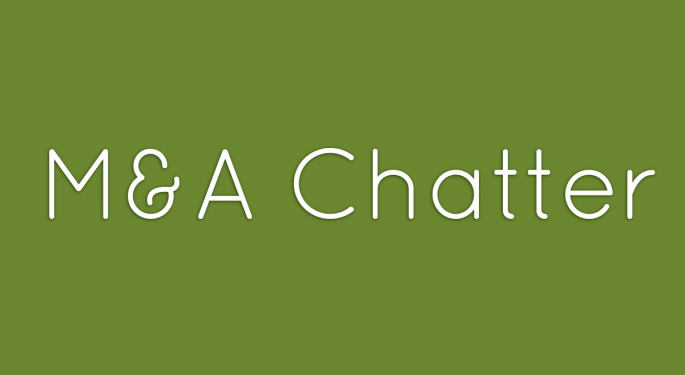 The following are the M&A deals, rumors and chatter circulating on Wall Street for Tuesday May 7, 2013:
Crest Financial Urges Shareholders to Reject Sprint-Clearwire Merger
The Shareholder Proxy Statement:
Crest Financial Limited, owner of an 8.25% stake in Clearwire Corporation (NASDAQ: CLWR), urged Clearwire shareholders Tuesday to reject the proposed merger with Sprint Nextel Corporation (NYSE: S), mailing its proxy statement to the Clearwire stockholders.
Crest opposes the Sprint-Clearwire merger, saying the Sprint offer of $2.97 per share is grossly inadequate and feels Clearwire would be better as a stand-alone company.
Clearwire closed at $3.35 Tuesday, a loss of 1.5% on higher than average volume.
Samsung Acquires MOVL
The Deal:
Samsung (OTC: SSNLF) has acquired startup MOVL, a developer of second-screen games and also a second-screen development platform, which allows iOS and Android developers to seamlessly integrate their apps with smart TVs.
March Cuban was one of the investors in MOVL, announced by the company in February 2012.
Samsung closed at $1,410 Tuesday, a gain of 4.5%.
Baidu Acquires Online Video Business of PPS for $370M
The Deal:
Baidu (NASDAQ: BIDU) announced Tuesday the acquisition of the online video business of leading Internet video provider PPS for US $370 million. The combined entity will become China's largest online video platform by number of mobile users and video viewing time.
Baidu and PPS expect the transaction to close in the Q2 2013.
Baidu closed at $89.30 Tuesday, a gain of almost 2% on average volume.
Higher One Acquires Sallie Mae's Campus Solutions Business for $47.25M in Cash
The Deal:
Higher One Holdings (NYSE: ONE) and Sallie Mae (NASDAQ: SLM) announced Tuesday that Higher One has acquired Sallie Mae's Campus Solutions business in an all-cash transaction valued at approximately $47.25 million.
Higher One Holdings closed at $9.87 Tuesday, a gain of 1.5% on average volume. Sallie Mae closed at $21.34 Tuesday, a gain of 1% on lower than average volume.
Posted-In: News M&A After-Hours Center Movers Tech
View Comments and Join the Discussion!