Benzinga's M&A Chatter for Monday May 6, 2013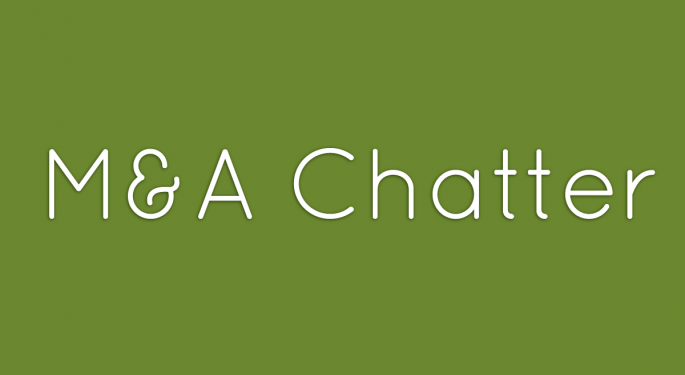 The following are the M&A deals, rumors and chatter circulating on Wall Street for Monday May 6, 2013:
BMC Software to be Acquired by Private Investor Group for $46.25/ Share in Cash
The Deal:
BMC Software (NASDAQ: BMC) announced Monday it will be acquired by a private investor group led by Bain Capital and Golden Gate Capital together with GIC Special Investments Pte Ltd and Insight Venture Partners. Under the terms of the agreement, the Investor Group will acquire all outstanding BMC common stock for $46.25 per share in cash, or approximately $6.9 billion.
The transaction is expected to close later this year subject to shareholder and regulatory approvals.
BMC Software closed at $45.42 Monday on 17 times average volume.
McAfee to Acquire Stonesoft for Approximately $389M in Cash
The Deal:
McAfee announced Monday, an agreement to initiate a conditional tender offer for the acquisition of Stonesoft Oyj (OTC: STNZF), the Helsinki, Finland-based network firewall products company, for an aggregate equity value of approximately $389 million in cash.
McAfee owner Intel (NASDAQ: INTC) closed at $23.91 Monday, a loss of $0.05 on lower than average volume.
Crestwood, Inergy to Merge Forming Midstream Energy Partnership Valued at $7B
The Deal:
Crestwood Midstream Partners (NYSE: CMLP) and Crestwood Holdings LLC and Inergy, L.P. (NYSE: NRGY) and Inergy Midstream, L.P. (NYSE: NRGM) announced Monday, agreements involving a series of three transactions, to create a fully integrated midstream partnership with a total enterprise value of approximately $7 billion.
Crestwood Midstream Partners closed at $24.70 Monday, a gain of 3.5% on 4 times average volume. Inergy closed at $23.75 Monday, a gain of 8% on 7.5 times average volume.
Onex to Acquire Nielsen Expositions for $950M
The Deal:
Onex Corporation (OTC: ONEXF) announced Monday an agreement to acquire Nielsen Expositions from its parent, an affiliate of Nielsen Holdings (NYSE: NLSN) for $950 million in cash consideration. The transaction is anticipated to close in the second quarter.
Nielsen Holdings closed at $36.02 Monday, a gain of 1% on average volume.
Hearing Market Chatter Southwestern Energy Hires JP Morgan to Explore Sale
The Rumor:
Shares of Southwestern Energy (NYSE: SWN) traded higher early Monday on unconfirmed market chatter that the company had hired JP Morgan as an adivsor to explore a possible sale. On December 3, 2012, Chevron (NYSE: CVX) was rumored to bid $44 per share for Southwestern Energy.
A spokesperson for Southwestern Energy was not available for comment.
Southwestern Energy closed at $37.06 Monday, a gain of $0.02 on average volume.
Outdoor Channel Says InterMedia $9.75/Share Bid is 'Superior'
The Superior Proposal:
Outdoor Channel Holdings (NASDAQ: OUTD) announced Monday that its board of directors, after consultation with the Company's outside legal counsel and financial advisor, unanimously determined that the May 3, 2013 proposal submitted by InterMedia Outdoors Holdings, LLC and IMTOC Merger Sub, Inc. to acquire all outstanding shares of Outdoor Channel common stock in an all-cash transaction at a price of $9.75 per share constitutes a "Superior Proposal" as such term is defined in Outdoor Channel's merger agreement with Kroenke Sports & Entertainment, LLC and KSE Merger Sub, Inc. dated as of March 13, 2013.
Outdoor Channel has notified KSE of its intention to terminate the KSE Agreement. KSE has four days to submit a counteroffer. Kroenke had bid $8.75/share for Outdoor Channel Holdings on March 1.
Outdoor Channel Holdings closed at $9.99 Monday, a loss of $0.01 on average volume.
View Comments and Join the Discussion!
Posted-In: M&A News Rumors Asset Sales Global After-Hours Center Movers