Benzinga's M&A Chatter for Wednesday May 1, 2013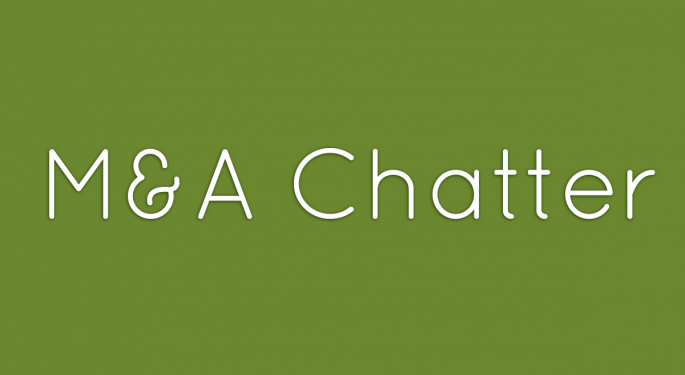 The following are the M&A deals, rumors and chatter circulating on Wall Street for Wednesday May 1, 2013:
Ebix to be Acquired by Goldman Sachs Affiliate for $20/Share in Cash
The Deal:
Ebix announced Wednesday that it has entered into a merger agreement to be acquired by a Goldman Sachs affiliate in a transaction valued at approximately $820 million. Under the terms of the agreement, Ebix shareholders will receive $20.00 per share in cash. The transaction is expected to close in Q3 2013.
Ebix closed at $20.60 Wednesday, a gain of 10.5% on almost 9 times average volume.
Yahoo Ends Bid to Acquire Dailymotion
The Bid Withdrawal:
Yahoo (NASDAQ: YHOO) has ended its bid to acquire a 75% stake in France's Dailymotion video website. France's Industry Minister, Arnaud Montebourg, said he wanted the deal between Yahoo and France Telecom's Orange to be a 50-50 split.
Yahoo closed at $24.30 Wednesday, a loss of 1.74% on lower than average volume.
3D Systems Acquires RPDG
The Deal:
3D Systems (NYSE: DDD) announced Wednesday that it has acquired Rapid Product Development Group, a provider of on-demand additive and traditional manufacturing services.
In connection with the acquisition of RPDG, 3D Systems raised its 2013 annual revenue and non-GAAP earnings per share guidance to revenue in the range of $460 million to $510 million and non-GAAP EPS in the range of $1.05 to $1.20 per share.
3D Systems closed at $37.67 Wednesday, a loss of almost 1.5% on higher than average volume.
Anheuser-Busch InBev Commences $9.15/Share Cash Tender Offer for Grupo Modelo Shares It Does Not Already Own
The Tender Offer:
Anheuser-Busch InBev (NYSE: BUD) announced Wednesday that a wholly-owned subsidiary is commencing the previously announced tender offer for all outstanding shares of Grupo Modelo, not already owned by AB InBev, for $9.15 per share in cash. The tender offer will expire May 31, 2013, at 2:00 PM, Mexico City time, unless extended.
Anheuser-Busch InBev closed at $94.89 Wednesday, a loss of $0.73 on average volume.
ADM to Acquire GrainCorp for AUD$12.20/Share
The Deal:
Archer Daniels Midland Company (NYSE: ADM) announced Wednesday that it has completed due diligence on GrainCorp Limited (ASX: GNC) and intends to make a cash offer to acquire the outstanding common shares of the company for A$12.20 per share under the terms of the takeover bid implementation deed signed with GrainCorp last week. The offer values the deal at about AUD $3.4 billion.
The offer is subject to conditions which include ADM receiving a minimum acceptance of 50.1 percent of GrainCorp shares. ADM presently owns 19.8 percent of GrainCorp's shares.
Archer Daniels Midland closed at $33.58 Wednesday and traded around $33.00 after-hours.
View Comments and Join the Discussion!