NHTSA Urges Automakers to Dial Back On Behind-the-Wheel Technology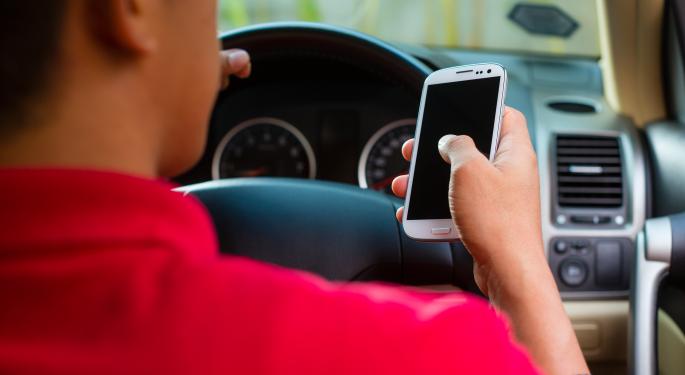 Apparently tweeting the fact that you are updating your Facebook (NASDAQ: FB) status while checking your location on satellite image GPS all at the same time isn't such a good idea. At least not while driving down the freeway at 70 mph.
So said the Transportation Department in non-binding guidelines issued Tuesday, according to Bloomberg.
In a 281-page document that some might say falls under "overstating the obvious," regulators urged automakers to design in-vehicle infotainment centers that limit distractions from Internet browsing and the use of Twitter and Facebook along with other devices including 3D and satellite image GPS systems.
The guidelines also ask automakers to design navigation and other screen-based systems so that drivers do not need to take their eyes off the road for more than two seconds to select an option, or 12 seconds to complete an entire task such as entering an address.
On a conference call with reporters, Transportation Secretary Ray LaHood said, "We've already made good progress in getting cellphones out of peoples' hands when they're behind the wheel," adding, "Cellphones aren't the only distractions."
A study, funded by NHTSA and released Tuesday, determined that sending hands-free text messages using Apple Inc. (NASDAQ: AAPL)'s Siri and the Vlingo system on Google Inc. (NASDAQ: GOOG)'s Android phones distracted drivers just as much as messages typed in by hand.
The Alliance of Automobile Manufacturers, including General Motors (NYSE: GM), Toyota Motor (NYSE: TM), Ford(NYSE: F), and others, complained that NHTSA draft guidelines issued last year were too restrictive and that by limiting use of in-car technology, the agency would encourage drivers to revert to more dangerous handheld devices.
The Alliance points out that NHTSA's own data indicate that 98 percent of distraction-related accidents are due to factors other than use of a built-in system.
As if to answer that allegation, Wired reported Tuesday that NHTSA said it plans to release two more studies over the next two years in which it will address mobile phones and other portable devices, along with a study on voice-activated controls.
"Until such time as the Phase 2 Guidelines are issued, the agency recommends that developers and manufacturers of portable and aftermarket devices consider these principles as they design and update their products," the guidelines state. "NHTSA further encourages these developers and manufacturers to adopt any recommendations in the Phase 1 Guidelines that they believe are feasible and appropriate for their devices."
At the time of this writing, Jim Probasco had no position in any of the mentioned securities.
Posted-In: AppleNews Politics Legal Events Tech Media General Best of Benzinga
View Comments and Join the Discussion!