Benzinga's M&A Chatter for Monday April 15, 2013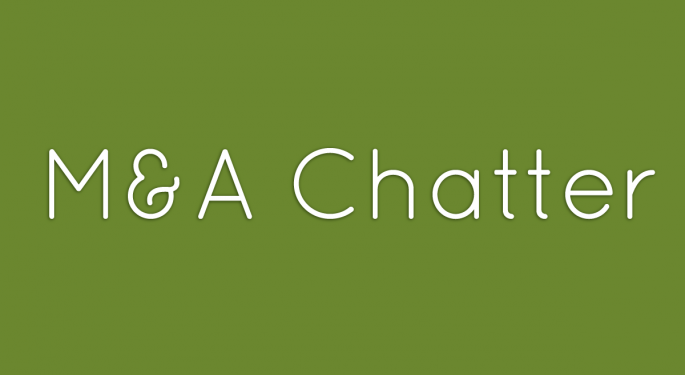 Thermo Fisher to Acquire Life Technologies for $76/Share in Cash
The Deal:
Thermo Fisher Scientific (NYSE: TMO) and Life Technologies Corporation (NASDAQ: LIFE) have signed an agreement under which Thermo Fisher will acquire Life Technologies for $76.00 in cash per fully diluted common share, or approximately $13.6 billion, plus the assumption of approximately $2.2 billion in debt at closing.
Life Technologies closed at $73.11 Monday, a gain of 7.5% on 23 times average volume.
DISH Network Proposes Merger with Sprint Valued at $25.5B
The Offer:
DISH Network Corporation (NASDAQ: DISH) announced Monday that it has submitted a merger proposal to the Board of Directors of Sprint Nextel Corporation (NYSE: S) for a total cash and stock consideration of $25.5 billion.
Under the terms of the offer, Sprint shareholders would receive $7.00 per share, consisting of $4.76 per share in cash and 0.05953 DISH shares per Sprint share.
Sprint confirmed it received the proposal from DISH Network and said that its Board of Directors will evaluate the proposal consistent with its fiduciary and legal duties. A spokesperson for Dish Network declined comment.
Sprint closed at $7.06 Monday, a gain of 13.50% on 12 times average volume.
Royalty Pharma Offers to Acquire Elan for up to $12/Share
The offer:
Royalty Pharma announced Monday, the terms of a firm, all cash offer for the entire issued and to be issued share capital of Elan Corporation (NYSE: ELN).
Subject to certain conditions as set forth in the Announcement, Royalty Pharma is offering for each outstanding share and ADS of Elan, between $11.00 and $12.00 per share. The offering price is dependent on the strike price for Elan's previously announced Dutch Auction.
Elan Corporation closed at $11.78 Monday, a loss of 2% on 1.5 times average volume.
National Financial Partners to be Acquired by Madison Dearborn Partners for $25.35/Share in Cash
The Deal:
National Financial Partners (NYSE: NFP) announced Monday that it has entered into a definitive agreement with Madison Dearborn Partners, under which a controlled affiliate of Madison Dearborn will acquire NFP.
Under the terms of the agreement, NFP shareholders will receive $25.35 in cash for each share of NFP common stock they own, in a transaction with an equity value of approximately $1.3 billion. The transaction is expected to close in the third quarter.
National Financial Partners closed at $25.01 Monday, a loss of $0.47 on lower than average volume.
MetroPCS Amends Agreement to Combine with T-Mobile USA
The Amended Agreement:
MetroPCS Communications (NYSE: PCS) announced Monday that the MetroPCS board of directors unanimously approved, and the company has entered into, an amendment, which amends certain terms of the business combination agreement, dated October 3, 2012 with Deutsche Telekom AG (OTC: DTEGY), to combine MetroPCS with T-Mobile USA. Under the revised agreement, MetroPCS stockholders will continue to receive an immediate $1.5 billion aggregate cash payment, or approximately $4.06 per share (prior to the reverse stock split that will occur in connection with the closing of the proposed combination), as well as an approximate 26% ownership stake in the combined company that allows all MetroPCS stockholders to participate in the expected significant equity upside of the combined company.
The amended terms of the proposed combination include reducing combined company debt issued to Deutsche Telekom by $3.8 billion, lowering the interest rate on combined company debt issued to Deutsche Telekom and extending the lock-up period for Deutsche Telekom-owned stock.
MetroPCS Communications closed at $11.05 Monday, a loss of 4.08% on 2.5 times average volume.
Posted-In: News Rumors M&A After-Hours Center Movers
View Comments and Join the Discussion!