What Does Kate Upton Want to Buy?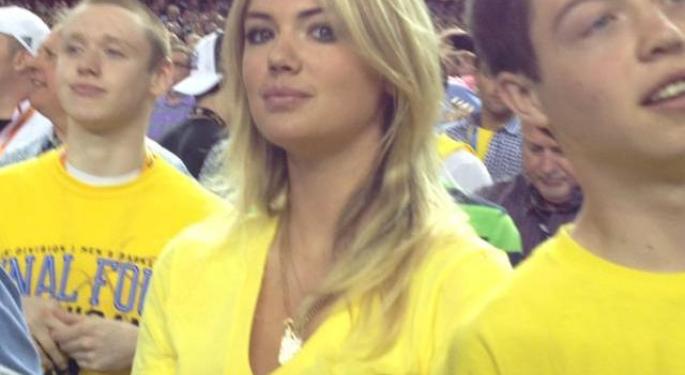 Yep, that's Kate Upton at the Final Four games in Atlanta, Georgia.
What is she thinking in this photo? What is she trying to say?
It could be a combination of many things. Maybe she's considering Goldman Sachs's suggestion to short gold from Wednesday morning.
Maybe she's considering the recent tumultuous value of Bitcoins.
Or, perhaps that half smile is because General Motors (NYSE: GM) has purchased test ads on Facebook (NASDAQ: FB) after terminating the relationship last year.
Most likely though, she was probably enjoying the Final Four game at the Georgia Dome in Atlanta, until this crafty photographer snapped her photo and ruined her night.
That wasn't the only person that noticed Kate Upton at the game, as underdog University of Michigan guard Spike Albrecht reportedly hit Upton up on Twitter the following day, thanking her for attending the game of his life. In case you missed it, here's her candid photo post on Reddit.
Perhaps you didn't know, but Kate Upton isn't just famous because of her modeling career. She's from St. Joseph, Michigan (but grew up in Melbourne, Florida) and comes from a long line of wealthy, high-profile individuals.
According to Celebrity Net Worth, Kate Upton is worth about $2 million dollars. That may not sound like much, but keep in mind she is the niece of U.S. Representative Republican Fred Upton, a Michigan native with a net worth of just under $16 million and the granddaughter of Frederick Upton, co-founder of Whirlpool (NYSE: WHR) with his brother Louis.
Whirlpool reported revenues of $18.666 billion in 2011 and employs more than 70,000 people, to give you an idea. And yes, Kate Upton is one in a large group of heirs to the Whirpool co-founder fortune.
So Kate Upton comes from old money, and can probably buy anything she would like. As can her Congressman uncle, and her high school athletic director father.
Kate Upton can literally buy anything she wants. So what should it be? Do you think she'd spend frivolously on a Gulfstream V jet aircraft for about $50 million? Or maybe she's too busy shopping Michael Kors (NYSE: KORS) since she turned down Jake Davidson's prom date proposal, citing her 'busy schedule.'
So how does Whirlpool stack up in regards to the Upton fortune? Well, year to date the stock is trading up 15.93 percent at $117.96, 40.26 percent over the last six months and 56.8 percent in the last year after dipping below $55/share in June 2012. While Upton may be a successful model, her fame isn't responsible for the company's track record.
Photo credit: Jason Raznick
View Comments and Join the Discussion!
Posted-In: Atlanta Final Four Fred Upton Frederick Upton Gulfstream VNews Rumors General Best of Benzinga