Tea's Popularity Growing, says Washington Post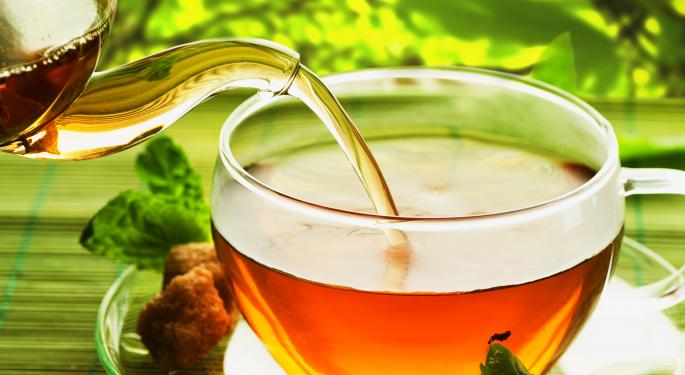 Only second to water, tea is quickly becoming one of the world's most consumed beverages. The research surrounding tea and its health benefits has boosted its popularity, according to The Wasthington Post
Tea has been studied for decades to discover its many health benefits, but it's hard to say if its potential to fight cancer and heart disease are true in the real world. In the many studies that have been held, the lifestyle and diet of the people are factored in. It's uncertain whether someone who isn't exercising regularly or eating healthy will have the same outcomes from drinking tea.
But, it never hurts to drink tea in moderation.
Tea is classified into five types: black, white, green, oolong and pu-erh. All teas are healthful in different ways, with its polyphenol antioxidants which protect against oxidative stress, but experts don't know exactly which chemicals or combinations of chemicals in tea produce which benefits.
Green tea
Green tea is made with steamed tea leaves, which means its minimal processing allows its unique catechins to be more concentrated. It has become the raw material for extracts which are used in various beverages, health foods, dietary supplements and cosmetic items.
The high concentration of EGCG and other antioxidants in green tea may interfere with the growth of cancers, such as bladder, lung, stomach, pancreatic and colorectal. It has also been known to prevent clogging of the arteries, burn fat, counteract oxidative stress on the brain, reduce risk of neurological disorders like Alzheimer's and Parkinson's disease, reduce risk of stroke and improve cholesterol levels.
Conversely, here is also evidence suggesting that consuming large volumes of green tea, particularly green tea extracts, may cause oxidative stress and liver toxicity.
One study done in 2001 by researchers from Boston University Schools of Medicine and Public Health showed that green tea may offer some protection from breast cancer. Along with their research with lab rats, the university found statistics that indicated the regions in which green tea is consumed in large quantities have lower incidences of breast cancer.
Further studies are attempting to discover what is in green tea that decreases the risk of cancer. It still isn't known how much green tea you should drink in order to reap its benefits. Also, it's difficult to know when cancer cells begin to develop and when to begin drinking green tea to hinder its growth.
Black tea
Black tea is made with fermented tea leaves and has the highest caffeine content. It also contains a bit of a stimulating substance called theophylline, a drug used in therapy for respiratory diseases. Black tea forms the basis for flavored teas like chai, along with some instant teas.
Black tea is full of healthy substances called polyphenols, which are a type of antioxidant that can help protect your cells from DNA damage. Studies have shown that black tea may protect lungs from damage caused by exposure to cigarette smoke and may also reduce the risk of stroke.
According to a study by the American Medical Association in 2005, women who drank at least two cups of tea a day had a lower risk of ovarian cancer than those who did not drink tea. More studies are needed for confirmation.
In 2001, Boston University found that short and long-term black tea consumption reverses endothelial vasomotor dysfunction in patients with coronary artery disease. This finding can partly explain the association between tea intake and decreased cardiovascular disease occurrence.
There is also increasing evidence which hints that the antioxidants in black tea may reduce clogged arteries and help lower the risk of a heart attack. It may also lower the risk for diabetes, high cholesterol, kidney stones and Parkinson's disease. Long-term use of black tea may also help protect against osteoporosis and lung cancer.
Optimal doses of black tea are hard to establish. Quality and ingredients vary widely so it is hard to set a standard dose. Drinking black tea in moderate amounts is generally safe for most people, but drinking large amounts can cause health problems, mostly due to its caffeine-related side effects.
White tea
White tea is uncured and unfermented, and therefore has the most potent anticancer properties compared to more processed teas.
White tea protects against cancer, heart disease, stroke and numerous other conditions. It also eases the symptoms of illness and promotes recovery; it strengthens the circulatory and immune systems as well as bones and teeth and builds healthy skin.
Oolong tea
Where green tea leaves are unfermented and black tea leaves are fully fermented, oolong tea leaves are partially fermented. They all use leaves from the same plant.
Oolong tea is caffeinated so it helps heighten awareness and energy along with sharpened thinking skills. Some people drink oolong tea to prevent or treat obesity and diabetes.
In an animal study, those given antioxidants from oolong tea were found to have lower bad cholesterol levels. One variety of oolong, Wuyi, is heavily marketed as a weight loss supplement, but science hasn't backed the claims.
People also believe that it helps with heart disease, hyperlipidemia, osteoporosis, dermatitis, atherosclerosis, high blood pressure and tooth decay. But the studies done in these areas are inconsistent and not conclusive.
A recent study in China showed that oolong tea might offer some protection against mental decline, as tea is suggested to do by other studies. These results weren't conclusive and further study is needed.
Oolong tea has the same risks as black tea because of its association with caffeine. Rapid heartbeat, palpitations, insomnia, nervousness, and headaches are some of the side-effects of chronic caffeine intake.

Whether or not these findings are all fact or that tea really can help get rid of or prevent cancer or lower cholesterol or has any of the other benefits remains to be seen. Tea will continue to be studied for its health benefits, but one thing's for sure: tea is good for you in some way, and you should drink it.
View Comments and Join the Discussion!
Posted-In: American Medical Association Boston University Schools of Medicine and Public Health The Washington PostNews Restaurants Global General Best of Benzinga