Benzinga's M&A Chatter for Wednesday April 3, 2013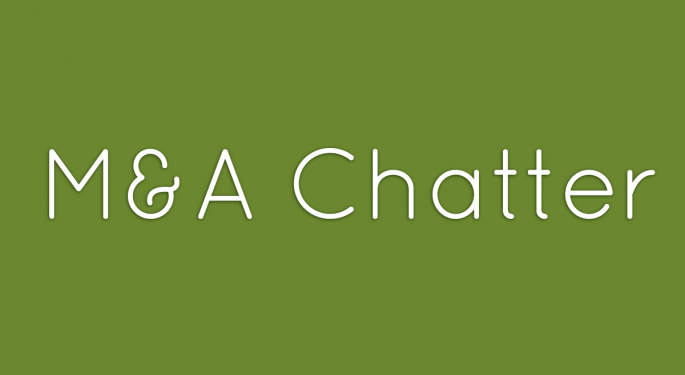 The following are the M&A deals, rumors and chatter circulating on Wall Street for Wednesday April 3, 2013:
Valeant Raises Bid for Obagi Medical Products to $24.00/Share In Cash
The Offer:
Valeant Pharmaceuticals (NYSE: VRX) announced Wednesday that Valeant and Obagi Medical Products (NASDAQ: OMPI) have executed an amendment to their Agreement and Plan of Merger, dated March 19, 2013. The amendment states that Valeant has increased its offer to acquire Obagi from $19.75 to $24.00 per share in cash. Obagi's board of directors has unanimously approved the amended transaction.
Obagi Medical Products closed at $25.19 Wednesday, a gain of 10% on 4.5 times average volume.
Cisco to Acquire Ubiquisys for $310M
The Deal:
Cisco (NASDAQ: CSCO) announced Wednesday its intent to acquire privately held Ubiquisys. Upon the close of the acquisition, the Ubiquisys employees will be integrated into the Cisco Service Provider Mobility Group, reporting to Partho Mishra, vice president and general manager, Service Provider Small Cell Technology Group. Under the terms of the agreement, Cisco will pay approximately $310 million in cash and retention-based incentives to acquire the entire business and operations of Ubiquisys. The acquisition is expected to close in the fourth quarter of Cisco's fiscal year 2013.
Cisco closed at $21.20 Wednesday, a loss of $0.02 on lower than average volume.
Hearing Renewed Chatter of Leonovo Interest in Blackberry
The Rumor:
Shares of Blackberry (NASDAQ: BBRY) moved higher Wednesday morning on chatter of renewed interest from Lenovo (OTC: LNVGY) for a possible takeover of the smartphone maker. On January 24, the Lenovo CFO commented that the company was looking at all opportunities, including the Blackberry maker. However, a spokesperson for the company later told Benzinga those comments were overstated.
Spokespersons for Blackberry and Lenovo declined comment on today's rumor.
Blackberry closed at $15.03 Wednesday, a loss of $0.11 on 1.5 times average volume.
Hearing Chatter of Possible Management Bid for Good Times Restaurants
The Rumor:
Shares of Good Times Restaurants (NASDAQ: GTIM) rose Wednesday on unconfirmed market chatter of a potential $5 per share bid from management to take the company private.
A Good Times spokesperson declined comment on the rumor.
Good Times Restaurants closed at $3.30 Wednesday, a gain of 10% on 6.5 times average volume.
View Comments and Join the Discussion!