Apple May Have Been Scared Off By Decreased TV Sales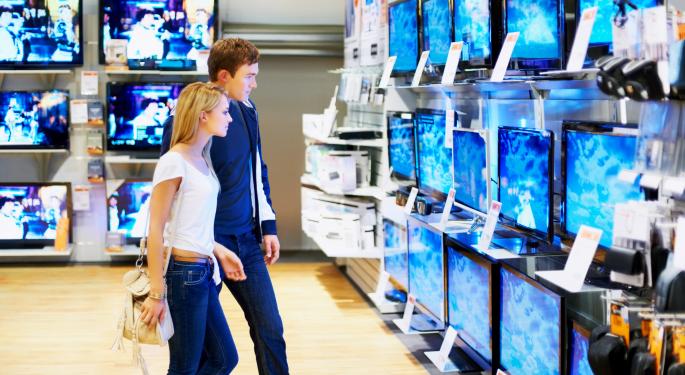 Despite the belief of one analyst that Apple's (NASDAQ: AAPL) first television was just around the corner, the long-awaited display was nowhere to be found in the first quarter.
Instead of rumors and supply chain reports for a snazzy display, the media shifted its attention to the prospect of a wearable computer.
Many assumed that this device would take the shape of a watch, enabling consumers to wear and use it with relative ease. This led to a steady stream of rumors about the device and its potential competitors from Google (NASDAQ: GOOG), Samsung and LG.
Meanwhile, Intel (NASDAQ: INTC) stole the TV spotlight when it announced that it wanted to build a new service that could bridge the gap between cable and Internet television. While the exact details of the service are unclear, it is known that it will ship with a set-top box that includes a camera designed to deliver a more personalized experience. Intel has said that privacy-conscious users will be able to close the camera lens.
Typically this would not be news. Aside from any controversy that may come as a result of the camera, the Intel initiative could have been written off as just another Google TV clone.
However, Google tried to conquer TV without the help of content partners. Intel is expected to take another route. The company has hired new talent from Apple, Netflix (NASDAQ: NFLX) and Google to build its service, which may launch within the next year.
As many as 400 people could be working on the project throughout 2013. More than 300 individuals have already been added to the Intel Media team.
While it is possible that Intel's efforts scared Apple out of the TV business, there may be another, more plausible reason for Apple's absence.
According to a new iSuppli report, domestic TV shipments declined 5.8 percent in 2012 and are expected to drop another 2.7 percent in 2013.
Unlike smartphones, which are replaced rather frequently, TVs are purchases meant to last five to 10 years. With proper care, LCD or LED sets can run for more than 15 years. If used sparingly, they can last even longer.
Thus, consumers that already have purchased a new TV may not be eager purchase an Apple display. This could make it very difficult for Apple to sell a significant number of units, especially as sales decline.
Those who are willing to upgrade may need to be persuaded to spend 32 percent more than they did on their last TV purchase.
Louis Bedigian is the Senior Tech Analyst and Features Writer of Benzinga. You can reach him at 248-636-1322 or louis@benzingapro.com. Follow him @LouisBedigianBZ
Posted-In: Apple Television Apple TV Google TV IntelNews Rumors Tech Best of Benzinga
View Comments and Join the Discussion!