What Good Friday, Easter and Passover Mean for Markets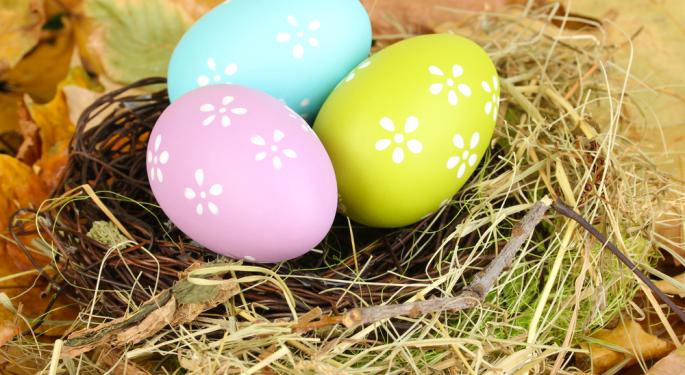 During the holidays, the stock markets tend to have less activity based around them, due to traders taking time off and people tending to family and friends.
The time around Passover, Good Friday, and Easter is no exception. But why do the markets close on Good Friday when it's not a non-federal holiday?
Also, what are some of the stocks that benefit from Easter?
The stock market has been closed on Good Friday since the first opening bell rang. There are many speculative reasons for why since it is a primarily Christian holiday, but it also usually coincides with the Jewish holiday of Passover. The NYSE therefore observes Good Friday and closes the markets.
Another theory is that the NYSE building leasing contract requires all businesses to be closed on all major Christian holidays, including Good Friday for Easter. It could also just be a tradition, there isn't a proven reason.
In Jeffrey Hirsch's book The Little Book of Stock Market Cycles, he explained the cycles and patterns of the stock market throughout the year and how traders can profit from them.
Hirsch observed that traders should "sell Rosh Hashanah, buy Yom Kippur, sell Passover." This pattern is because many traders and investors are busy with religious observance and family so they close out positions and therefore volume fades, creating a "buying vacuum."
Rocky White, a Forbes contributor and investment analyst found that out of 30 Easter holidays, 89 percent of the time strong stock markets before Easter usually meant more gains for the rest of the year.
According to his numbers, traders and investors may have an optimistic view of the markets this year.
In the world outside of the stock markets, many people will lose a pay day during this Easter weekend because it is at the end of March instead of April. Generally, these people still want to have a vacation and therefore start to book early and compare sites to find the best deals.
Stocks that are favored before Easter weekend are wholesale companies such as Target (NYSE: TGT) and Wal-Mart (NYSE: WMT), candy companies like Hershey's (NYSE: HSY), and also the largest egg producer in the U.S. Cal-Maine Foods (NASDAQ: CALM).
Target and Wal-Mart are used for finding the general items that are used for the holiday traditions during Easter, such as: baskets, toys, candy and eggs. People can also find decorations and groceries to give their home an Easter feel and smell.
Hershey's Reese's Pieces and Cadbury Creme Eggs are two of the biggest candies bought during this time and therefore Hershey's should see a big boost in their sales. Hershey's has strong brand recognition and historical significance in the U.S.
Cal-Maine is the largest egg producer and distributor in the U.S. It stands to reason that their stock will be positively affected during Easter because of the tradition of coloring and decorating eggs, and also hiding them for children to hunt.
View Comments and Join the Discussion!
Posted-In: Easter Good Friday PassoverNews General Best of Benzinga