'Welcome to Wal-Mart. Would You Mind Making a Couple of Deliveries on Your Way Home?'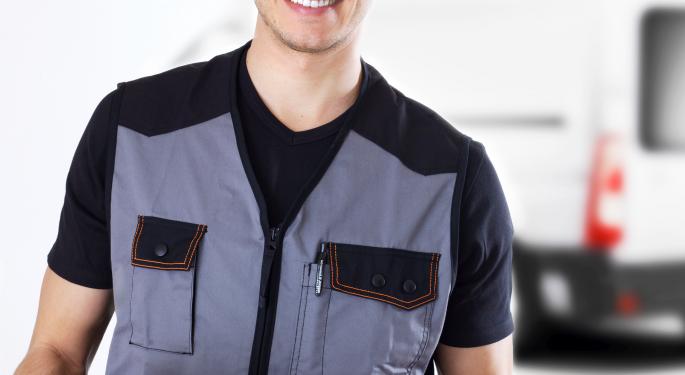 At first glance, it sounds crazy. Reuters reported that Wal-Mart Stores Inc (NYSE: WMT) is considering a plan to have customers deliver packages to online buyers.
OK, at second glance, it still sounds crazy. Maybe there's a more reasonable explanation.
Asking customers to deliver goods to other customers puts Wal-Mart in the middle of a new phenomenon called "crowdsourcing."
Some crowdsourcing sites are designed to help entrepreneurs raise money for projects or business ideas. Others help people make money by renting out a spare room, a car or even clothing.
In theory, Wal-Mart would be inviting people to rent out space in their vehicle and their services in delivering packages to others.
What could possibly go wrong?
For starters, there are myriad legal questions, not to mention regulatory questions, and privacy issues. On top of all that, people who are comfortable with a UPS (NYSE: UPS) or Fed-Ex (NYSE: FDX) truck in their driveway, complete with uniformed driver, may not take quite so kindly to a tricked out 93 Buick Regal convertible piloted by a guy named Chester in Bermuda shorts and flip-flops.
Wal-Mart executives address these and other concerns by saying the whole thing is "at an early planning stage." Perhaps this cat should have been kept "in the bag" until some of the details have been worked out?
The story behind the story is Wal-Mart's big push to ship online orders directly from stores, in hopes of gaining an edge over Amazon (NASDAQ: AMZN) and other online retailers.
"I see a path to where this is crowd-sourced," Joel Anderson, chief executive of Wal-Mart.com in the United States, told Reuters.
Interested customers, Anderson says, could tell Wal-Mart where they live and sign up to drop off packages on the way back home. In return, Wal-Mart would offer a discount on the customers' bill, effectively covering the cost of their gas.
Matt Nemer, a retail analyst at Wells Fargo Securities is skeptical, to say the least. "I'm sure it will be a test in some stores," Nemer said. "But they may only keep it for metro markets and for higher-priced items."
If Wal-Mart decides to go through with the plan, delivery startups like Zipments may be able to provide some lessons. The company has discovered that driver screening is more important than it first thought, for example.
In addition, insurance and licenses were an initial obstacle for the company. Drivers often need personal liability insurance to cover package delivery activities, Zipments Chief Executive and co-Founder Garrick Pohl told Reuters.
Wal-Mart says customer-to-customer delivery is at least "a year or two" away.
Do you really want a card carrying member of, "the people of Wal-Mart" coming to your home? Didn't think so.
View Comments and Join the Discussion!
Posted-In: Amazon FedEx Corp. ups WalmartNews Rumors Events General Best of Benzinga