Benzinga's M&A Chatter for Friday March 1, 2013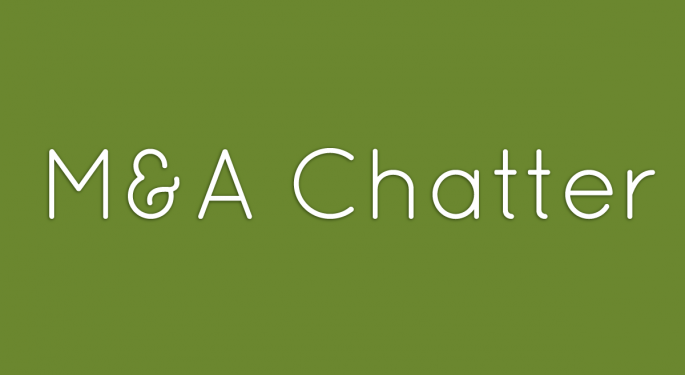 The following are the M&A deals, rumors and chatter circulating on Wall Street for Friday March 1, 2013:
Best Buy Receives No Offer from Schulze
The Non-Offer:
Best Buy (NYSE: BBY) reported Friday that company has received no offer from founder Richard Schulze. The company issued a statement: "The deadline by which Mr. Schulze could make an offer to acquire the company expired yesterday, February 28, 2013, at the end of the day. The company received no such offer and will continue to focus on its transformation for the benefit of all of its stakeholders.
Schulze failed in his attempt to secure financing for a deal, and a proposal for a $1 billion minority stake in Best Buy involving Cerberus Capital Management, TPG Capital and Leonard Green & Partners, was rejected by the company.
Best Buy did report narrower than expected Q4 losses on Friday.
Best Buy closed at $17.16 Friday, a gain of 4.5% on higher than average volume.
Westport Innovations Cancels Out of Conference Resulting in Renewed Takeover Chatter
The Conference Cancellation:
Westport Innovations (NASDAQ: WPRT) cancelled out of the March 13 Northland Securities Techonology Conference, raising renewed speculation on Friday of a possible takeover by Cummins (NYSE: CMI). Chatter surfaced on February 17 of talks between the two companies, who already have a working relationship with the Cummins Westport joint venture.
A Westport Innovations spokesperson said the company cancelled due to scheduling conflicts involving executives. The company is attending several other events around that date.
Westport Innovations closed at $28.28 Friday, a loss of 2% on 1.5 times average volume.
Hearing Chatter of Talks Between GlaxoSmithKline and Keryx Biopharmaceuticals
The Rumor:
GlaxoSmithKline (NYSE: GSK) is reportedly in talks to acquire Keryx Biopharmaceuticals (NASDAQ: KERX), according to Sierra World Equity Review.
Spokespersons for Keryx and GlaxoSmithKline were not available for comment.
Keryx Biopharmaceuticals closed at $7.19 Friday, a gain of almost 12% on almost twice average volume.
Hearing Unconfirmed Market Chatter of IBM Bid for NetApp
The Rumor:
NetApp (NASDAQ: NTAP) has reportedly received a $45 per share bid from IBM (NYSE: IBM), according to unconfirmed market chatter on Friday. A Bloomberg report on February 1, said NetApp and Splunk (NASDAQ: SPLK) could be takeover targets of IBM. NetApp has reportedly hired Credit Suisse as an adviser.
Spokespersons for NetApp and IBM were not available for comment.
NetApp closed at $33.95 Friday, a gain of $0.11 on average volume.
Hearing Unconfirmed Market Chatter of Potential Lenovo Bid for 3D Systems
The Rumor:
Shares of 3D Systems (NYSE: DDD) surged higher early Friday, on market chatter of possible interest from Lenovo (OTC: LNVGY).
A spokesperson for 3D Systems said the company had "not released any news on the subject" and declined comment. A Lenovo spokesperson was not available for comment.
3D Systems closed at $36.70 Friday, a loss of $0.26 on lower than average volume.
Report Bristol-Myers Squibb Considered Biogen, Shire Acquisitions
The Rumor:
Shares of Biogen Idec (NASDAQ: BIIB) and Shire (NASDAQ: SHPG) rose Friday, on a report from WSJ that Bristol-Myers Squibb (NYSE: BMY) had expressed interest in acquiring one or both companies.
Spokespersons for the companies were not available for comment.
Shire closed at $96.29 Friday, a gain of almost 3%, while Biogen Idec closed at $168.70, a gain of 1.5%.
View Comments and Join the Discussion!