Affymax Drops to All-Time Low After Recall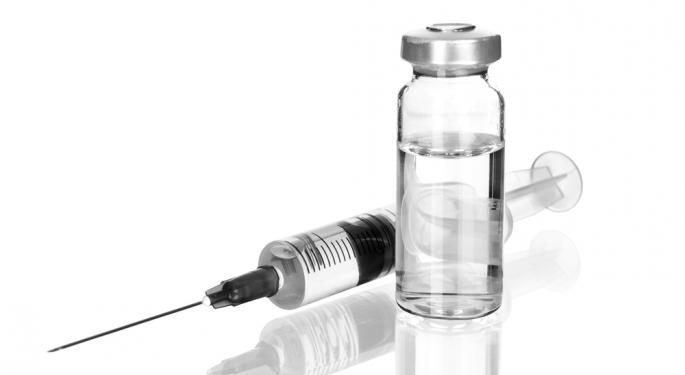 It's been a rough few months for Affymax (NASDAQ: AFFY). After a steady climb to nearly $25 in late November, the Palo Alto, California biotech firm has been on a backslide. The stock fell into the mid-teens by mid-February and hovered there through Friday.
Then, on Saturday, Affymax and Takeda Pharmaceutical Company (OTC: TKPYY) announced a voluntary recall of all lots of OMONTYS Injection. The companies did so in response to post marketing reports regarding serious hypersensitivity reactions, including anaphylaxis. Anaphylaxis is the same reaction some experience after being stung by a bee or wasp and it can be fatal.
Letters have been issued to healthcare professionals indicating that the drug should not be administered to any new or existing patients.
Scope of the Problem
OMONTYS was approved by the FDA 11 months ago. As such, it is unclear why the drug was ever approved or why the recall is happening now instead of sooner.
According to Affymax, 25,000 patients have been injected with OMONTYS in the post marketing setting.
Overall, approximately 0.2 percent of patients have experienced hypersensitivity to the drug. Around a third of such cases have been serious enough to require immediate medical attention and/or hospitalization.
And, to date, 0.02 percent of patients have experienced a fatal reaction within 30 minutes of their first dose of the drug. There have been no deaths after subsequent doses.
Based on these figures, approximately 50 people have experienced hypersensitivity to the drug and five have died.
One Trick Pony?
Unfortunately for Affymax and its investors, the company relied heavily on the success of OMONTYS. The company's reliance on this product was to the tune of over 93 of its total revenue during the third quarter of 2012, with $10.4 million of its $13.6 million coming from a profit equalization payment from Takeda related to sales of the drug. Another $2.25 million came from a milestone payment from Takeda as a result of the "commercial progress achieved with OMONTYS during its product launch."
Affymax Approaching Penny Stock Status
After closing at $16.52 on Friday, Affymax has embarked on a free-fall on Monday. The stock has dropped around 85 percent.
As of this writing, Affymax has plunged to an all-time low. It rests around $2.44 per share in the morning hours of trading on Monday.
Posted-In: OmontysNews FDA Intraday Update Movers Best of Benzinga
View Comments and Join the Discussion!