State Pension Funds Move to Dump Gun Stocks Despite Rally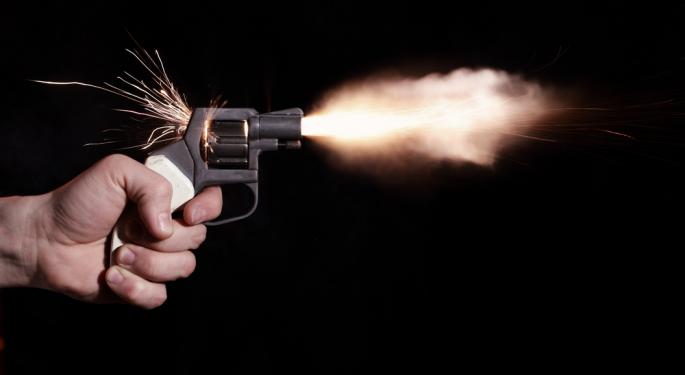 As the gun control debate rages on, the impact of that debate on the long-term viability of major gun stocks (and the retailers selling that sell guns) continues to drive two opposing investor factions.
President Barack Obama proposed gun control measures on Wednesday, including 23 executive orders that take effect today. The wide-ranging and ambitious list includes background checks for every gun purchase, a ban on most assault-style weapons and high capacity clips, and a new federal gun trafficking law to keep out-of-state guns off city streets.
He also directed the Centers for Disease control to compile data that will help scientists study issues like the effects of violent video games on gun deaths. That news sent shares of Activision Blizzard (NASDAQ: ATVI) tumbling more than 1 percent.
The legal and moral debate will continue with many Capitol Hill pundits pessimistic about passage of any legislation.
In the meantime, several major public employee pension funds have vowed to divest themselves of all gun-related stocks.
Comptroller Thomas DiNapoli told Reuters on Tuesday that New York State's $150 billion public pension fund will stop buying shares of publicly-traded firearms manufacturers.
On January 9, the Los Angeles Times reported that the $154-billion California State Teachers' Retirement System has started selling some of its holdings in gun and ammunition-clip manufacturers.
ABC News reported Monday that Chicago Mayor Rahm Emanuel is asking city pension funds to divest from any investments in companies that manufacture guns and will "lead a charge" among all mayors to tackle the issue.
On the other side of the trade, wide-ranging public discussion about stricter gun control may have already benefitted companies like Smith and Wesson (NASDAQ: SWHC).
The FBI reports that the number of background checks required for Americans buying guns set a record in December 2012. This suggests that renewed talk about stricter gun laws has boosted demand for firearms.
Sturm, Ruger & Co.'s (NYSE: RGR) increased inventory of both raw materials and finished goods could be a signal that the company believes it will see increased product demand in its future.
The question remains: Will gun stock dumping by major pension funds and others drive share prices down, or will the combination of gun buyer demand in the short term and pessimism about Congressional action in the long term drive prices up?
Sturm, Ruger & Co. Inc. is up nearly 4 percent, while Smith & Wesson is up 3 percent following the announcement.
Gun-related stocks are mostly higher in Wednesday trading. Cabela's Incorporated (NYSE: CAB) is up 6 percent, Dick's Sporting Goods (NYSE: DKS) is up 0.5 percent, and Big 5 Sporting Goods (NASDAQ: BGFV) is down 1 percent.
View Comments and Join the Discussion!
Posted-In: News Politics Legal Intraday Update Movers Trading Ideas General Best of Benzinga