Can Pokemon X and Y Save the Nintendo 3DS?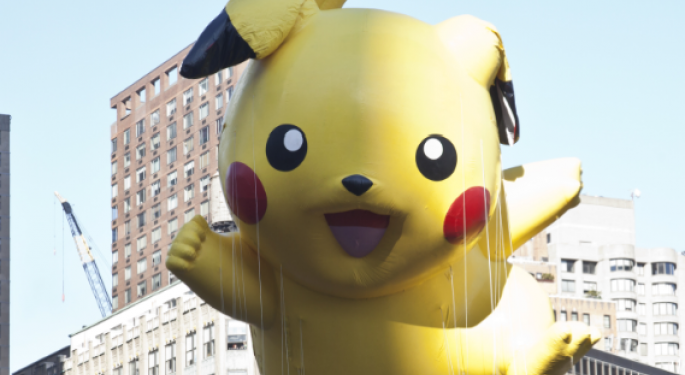 During the late '90s, when Nintendo's console was failing and its handheld was thriving, Hiroshi Yamauchi (the company's president) reportedly told the Japanese press that the only game Nintendo needed was Pokemon.
While his comments -- which suspiciously cannot be found on Google (NASDAQ: GOOG) -- may have sounded a little crass at the time (particularly when the PlayStation sold three times as many units as Nintendo 64), it wasn't hard to overestimate the importance of Pokemon. It was, after all, the company's newest star franchise.
Every game in the series has sold more than six million copies. Pokemon Black and White Version 2, which is only a few months old, has already sold 6.14 million units. Pokemon Platinum, a remake of one of the existing games, sold 7.52 million units. Pokemon Red, Blue and Green sold a combined total of more than 31 million units.
The Pokemon offshoots -- such as Pokemon Ranger -- have sold a couple million units each each. Even the quirky and childish (but surprisingly addictive) Pokemon Snap managed to sell 3.63 million units.
Very few games have been able to consistently achieve these numbers over a 15-year span. Aside from the Mario and Zelda games (which are released less frequently than Pokemon) and Final Fantasy, no game can compete with Pokemon. Electronic Arts' (NASDAQ: EA) cash cows -- Madden and FIFA -- are fierce contenders, but they are no Pokemon. Activision's (NASDAQ: ATVI) Call of Duty franchise currently sells more units annually than any other game, but the series is too new to compare to Nintendo's handheld champion.
By releasing a multitude of Pokemon games, Nintendo was able to sell millions of Game Boy, Game Boy Color, Game Boy Advance and Game Boy Advance SP units. Without these systems, Nintendo would not have been able to maintain its enormous profit margins in the late '90s and beyond. It was the success of those handhelds -- and later the Nintendo DS, the company's most successful game system -- that enabled Nintendo to overcome the setbacks of N64 (which sold roughly 33 million units) and GameCube (which could only sell 21.7 million units). Nintendo used its handhelds -- particularly the Nintendo DS -- to restore consumers' faith in the company's products. This enabled Nintendo to stage a major comeback with the original Wii, which sold three times as many units as the N64, and more than four times as many units as GameCube.
Nintendo's winning streak ended the moment the Nintendo 3DS was released, marking the company's first flop since the Virtual Boy was released. The sales were so low that Satoru Iwata, Nintendo's President and CEO, took a 50 percent pay cut.
GameStop (NYSE: GME), the world's largest video game retailer, was so thrown by the system's disappointing launch that it lowered its sales expectations in 2011.
The Nintendo 3DS performed so poorly in 2011 that the company was forced to lower the system's price by $80. The price cut came in August 2011, but the announcement came in July -- just four months after the handheld arrived in North America.
Coincidentally, both the Virtual Boy and Nintendo 3DS were heavily promoted as next-generation devices that could deliver a three-dimensional gaming experience. In both cases, consumers were more interested in playing quality games than they were in seeing 3D images. This created a problem for the Virtual Boy as well as the Nintendo 3DS, as neither platform launched with a good game.
The Wii U, Nintendo's latest console, is in a moderately better position. New Super Mario Bros. Wii U (one of the system's launch titles) is a hit with critics and consumers. It has already sold more than 1.4 million copies, indicating that more than 50 percent of the people who buy Wii U are also picking up the new Mario game.
NintendoLand, which comes packaged with the premium edition of Wii U, is the only game that has sold more units.
It is all downhill from there, however. ZombiU, the next most successful Wii U game, has only managed to sell 350,000 units. Darksiders II, the most recent game from bankrupt publisher THQ (NASDAQ: THQI), has only sold 50,000 units on Wii U.
Nintendo has yet to announce its summer or fall lineup of Wii U games, so it is impossible to gauge how well the system will perform in 2013. Based on the current lineup (which includes a delay of Pikmin 3 from March to May), things are not looking good for Nintendo.
This leaves the Nintendo 3DS -- which has already sold more units than GameCube -- as the company's most likely success story.
The real question is whether or not Pokemon X and Y -- the newly announced games built exclusively for Nintendo 3DS -- can boost hardware sales when they are released this fall.
"I'm seriously considering getting a 3DS for this," one consumer, whose username is Platysaur, wrote on GameInformer this week.
"I have been playing since the very first game, no reason to stop now," KillerAura wrote.
"Only game I've ever bought a Nintendo hand held for," another consumer, Josh, wrote. "Didn't get the last one though, kind of tired of it. They need to shake it up more and make it a little less kid-focused. I wouldn't be surprised if the audience isn't children anymore. Fans have grown."
"For me Pokemon died after Emerald," Codyeo wrote. He added that while he never made the jump to the DS sequels, X and Y have piqued his interest. "Whenever my little sister gets them I might have to check em' out," he wrote.
Over on IGN, fans echoed these sentiments.
"I'm 27 now, and haven't played a Pokemon game since Gold/Silver, and I'll very likely be buying a 3DS and either version of this game," drchimz falcon_punch87 wrote. "I've been waiting for a proper 3D Pokemon since there were rumors it was going to be on the GameCube many, many moons ago."
One NintendoLife reader is a bit concerned about Nintendo's decision to announce the game this week instead of waiting for the Electronic Entertainment Expo in June.
"Is it just me, or is it really unusual for Nintendo to announce games nine months before the release date?" he questioned. "(Well, Super Smash Bros. Brawl, but that was supposed to come out four months after Reggie announced it, and then it got delayed twice to reach nine months.
"Everybody is going to be focused on X, Y and the 3DS all year. Nintendo needs to do something big to get the Wii U some attention."
Follow me @LouisBedigianBZ
View Comments and Join the Discussion!
Posted-In: Nintendo 3DS Pokemon X Pokemon YNews Success Stories Tech General Best of Benzinga