Starbucks Continues to Bolster Eco-Friendly Image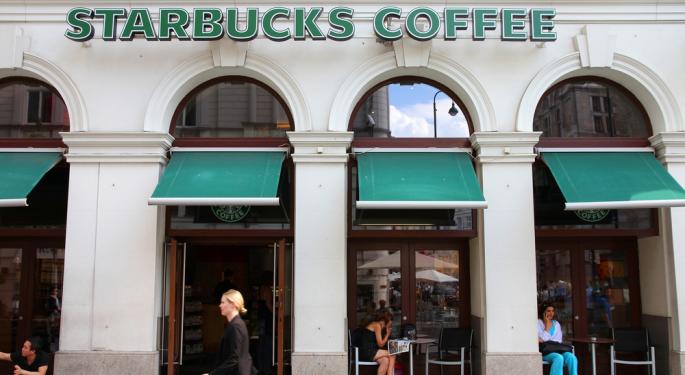 The year has opened with a bit of good news for caffeine lovers and environmentalists alike: Coffee giant Starbucks (NASDAQ: SBUX) has kicked off the new year with plans to sell $1 reusable cups.
Alone, the move may not seem like much. Customers are already permitted to bring in their own reusable cups and get a $0.10 discount for doing so.
Why would customers purchase a Starbucks cup when they can bring their old mugs from home? The answer lies in the image the company portrays.
Starbucks not only sells coffee -- it sells status. Accurate or not, the company projects an image of intelligence and sophistication. Consumers can get coffee from local coffee shops, Dunkin Donuts (NASDAQ: DNKN), McDonalds (NYSE: MCD), or even brew it at home, but millions continue to pay higher prices for Starbucks' offerings.
Just visualize the typical customer sitting in a turtleneck and glasses with an Apple (NASDAQ: AAPL) Macbook at a Starbucks store to get a sense of the image the company is going for. As such, a reusable mug with the company's logo will satisfy the increasing demand for environmentally-friendly products while offering the Starbucks status.
On a broader level, the announcement is in line with an eco-conscious image the company has pushed over the past several years. In 2008, the Seattle-based company announced that it had set a goal of serving 25 percent of all orders in reusable cups by 2015. That has since been slashed to 5 percent, perhaps as a reality check on a growing but lacking public awareness of environmental issues.
In 2011, the company announced a front-of-store recycling program at its locations in British Columbia, Canada.
In general, the company has focused on sustainability over the past few years with these and other similar moves to limit resource consumption.
On a short term basis, this move should have very little impact on the direction of Starbucks' stock. However, with an increasing emphasis on corporate responsibility in the modern world, it will help boost the company's image and reduce opposition to its drain on the environment. Thus, it will likely have a positive, albeit minor, impact on Starbucks in the market over the long haul.
As expected, this announcement has had very little impact on the stock price thus far. Starbucks has shown modest gains in trading on Thursday. However, this may be due to an announcement that the company has entered the Vietnamese market.
Posted-In: News Movers General Best of Benzinga
View Comments and Join the Discussion!