US Airways/American Merger Looks Close After Pilots Show Approval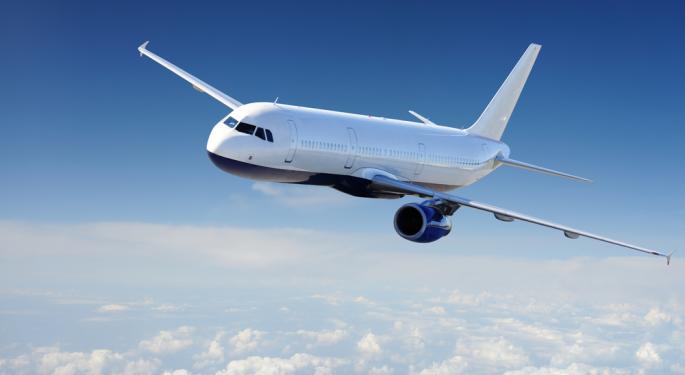 Shares of U.S. Airways (NYSE: LCC) rose 5.5 percent to close at $13.50 on Monday after the Allied Pilots Association approved a memorandum of understanding that would allow a possible merger between U.S. Airways and American Airlines (OTC: AAMRQ).
Other airlines finished the day up—outperforming the broader market. JetBlue (NASDAQ: JBLU) had a 2.5 percent gain to close at $5.72 and Delta Airlines (NYSE: DAL) rose 3.2 percent to $11.87. Southwest Airlines (NYSE: LUV) was the laggard in the sector--up only 0.8 percent.
American Airlines' parent company, AMR, filed for chapter 11 bankruptcy in 2011, citing high labor costs as a primary reason. The company reported that its labor costs were about $800 million higher than other major airlines. It won court approval to throw out the agreement with its pilots union, resulting in an estimated savings of $370 million annually.
At a press event in early 2011, U.S. Airways CEO Doug Parker said that he sees "one big deal left" in the U.S. airline industry, a reference to his company merging with one of the other carriers. U.S. Airways is the smallest of the full fare airlines in the United States with a $2.2 billion market cap.
U.S. Airways later filed an 8-K with the SEC, disclosing that it had signed agreements with unions representing all of AMR's mechanics and fleet service employees. This signaled a hostile takeover attempt of AMR after the company reiterated its desire to remain independent.
However, the company's creditors, as well as labor unions representing AMR employees, have pressured AMR to examine U.S. Airway's offer more seriously. In an April 2012 statement, the Allied Pilots Association said, "A merger between American Airlines and US Airways is the best strategy and fastest option to complete the restructuring of American Airlines, enabling it to exit the Chapter 11 bankruptcy process..."
Some industry experts do not see a merger as strategically advantageous. Neither company gains access to new routes since significant overlap already exists both regionally and through mainline service.
Aircraft ownership may be another sticking point. In order to maintain liquidity, AMR leased its aircraft. But some analysts believe that if U.S. Airways does make a takeover bid, it could essentially choose which aircraft it wants, leaving older less profitable planes out of the deal.
The new agreement only serves to allow each side to move forward with negotiations. Any potential deal between the two companies is subject to the approval of the court.
Posted-In: News Legal M&A Movers Best of Benzinga
View Comments and Join the Discussion!