Coinstar Rises 5% on Major Redbox Instant News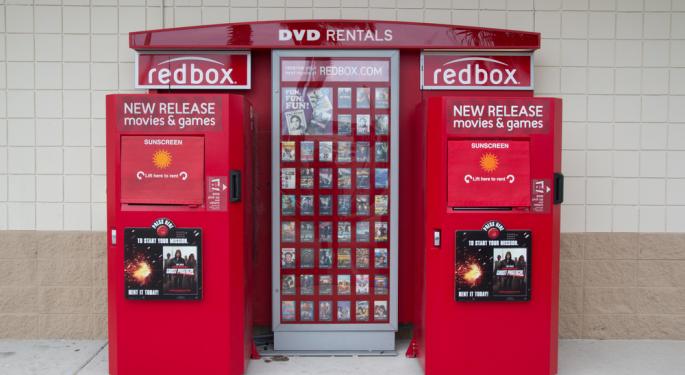 Investors poured into Coinstar (NASDAQ: CSTR) Wednesday morning after the company announced that it will begin beta testing its Redbox Instant streaming video service later this month.
The service, which is being built by Verizon (NYSE: VZ), will allow users to view content online and retrieve four one-night credits for DVD rentals from Redbox kiosks. While the $8 monthly price is in-line with Netflix (NASDAQ: NFLX) and Hulu, it is $2 higher than rumors suggested. Some bloggers also speculated that Redbox Instant would charge a lower price to lure consumers away from other streaming video services. That did not turn out to be the case.
However, the company did announce a multitude of licensing agreements, including one with EPIX that will allow the service to stream new films from Viacom's Paramount Pictures (NASDAQ: VIA) (NASDAQ: VIAB), Lionsgate (NYSE: LGF) and MGM. NBCUniversal, Relativity, Warner Bros. and Sony (NYSE: SNE) Pictures Home Entertainment are also on board.
Miramax, which previously signed multi-year agreements with both Netflix and Hulu, is currently absent from the list. Disney (NYSE: DIS) and DreamWorks Animation (NYSE: DWA) have both signed exclusive licensing deals with Netflix that prevent them from providing content to any other service.
While Redbox Instant has secured content from NBCUniversal, it has not yet persuaded Fox, CBS (NYSE: CBS) or ABC. Earlier this year, Fox signed a massive agreement to bring old and new TV shows to Amazon Prime (NASDAQ: AMZN). That deal is not exclusive, however.
Coinstar and Verizon are attempting to grow quickly by bringing Redbox Instant to as many devices as possible. The service will launch on Apple's (NASDAQ: AAPL) iOS devices, Google's (NASDAQ: GOOG) Android tablets and smartphones, and TVs and Blu-ray players from Samsung and LG. Google TV will also receive a Redbox Instant app.
It is not yet known when other devices -- such as Surface and Xbox 360 from Microsoft (NASDAQ: MSFT) -- will receive Redbox Instant support.
"Redbox Instant by Verizon will be an exciting new service for consumers in the digital entertainment marketplace and we are thrilled to be their partner, providing our movies from some of the world's leading studios," Mark Greenberg, president and CEO of EPIX, said in a company release.
Investors see this as a bigger win for Coinstar than Verizon. Coinstar, which is up more than five percent today, has gained more than 10 percent over the last month. The company is up more than 13 percent year-to-date. Verizon, on the other hand, is primarily a telecommunications firm and has gained roughly 0.20 percent this morning. Year-to-date Verizon is up nearly 12 percent.
Follow me @LouisBedigianBZ
Posted-In: Coinstar Redbox Instant VerizonNews Tech Best of Benzinga
View Comments and Join the Discussion!