ETF Inflows on Record Pace in 2012, Says Morningstar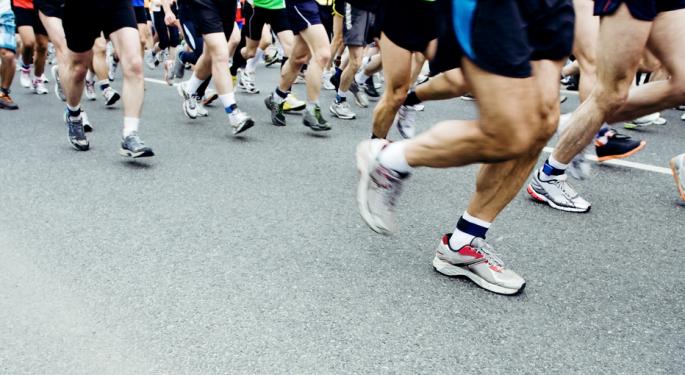 Exchange traded funds raked in $15.6 billion in fresh investments last month as bond funds continued to be asset-gathering leaders. Year-to-date ETFs have attracted $154 billion in new assets, putting the industry on pace to eclipse the 2008 record, according to Morningstar (NASDAQ: MORN). In 2008, ETFs hauled in $168.3 billion in assets.
Bond funds continue to impress. Inflows to the group totaled $3.8 billion last month and stand at $48 billion, "surpassing any previous year," Morningstar analyst Michael Rawson said in a note.
Not surprisingly, the PIMCO Total Return ETF (NYSE: BOND), which debuted earlier this year, has been the leader among bond ETF inflows this year. Colloquially known as the Bill Gross ETF, BOND raked in $450 in fresh investments last month and is on pace to top $4 billion in AUM this year, Morningstar noted. BOND is now the largest actively managed ETF and the second to top $1 billion in AUM. The first was the WisdomTree Emerging Markets Local Debt Fund (NYSE: ELD).
Speaking of emerging markets bond ETFs, the Morningstar data is supportive of an often discussed topic: Surging inflows to this asset class. ETFs tracking emerging markets debt attracted $774 million in assets last month to bring the year-to-date total to $5.4 billion.
Inflow leaders among emerging markets bond ETFs this year are spread across the group and include dollar-denominated funds such as the PowerShares Emerging Mearkts Sovereign Debt Portfolio (NYSE: PCY), the Market Vectors Emerging Markets Local Currency Bond ETF (NYSE: EMLC) and the iShares Emerging Markets Local Currency Bond Fund (NYSE: LEMB).
Morningstar noted emerging markets ETFs, including funds ranging from the iShares MSCI Emerging Markets Index Fund (NYSE: EEM) to the iShares FTSE China 25 Index Fund (NYSE: FXI) to the WisdomTree India Earnings ETF (NYSE: EPI), were on the receiving end of robust inflows in November. As a group, diversified emerging markets funds such as EEM attracted over $1.8 billion in assets last month.
Investors continue to low volatility ETFs as well. Morningstar points out the iShares MSCI Emerging Markets Minimum Volatility Index Fund (NYSE: EEMV) attracted $86 million in fresh assets in November. The PowerShares S&P 500 Low Volatility (NYSE: SPLV), already the largest low volatility equity ETF by assets, gained $352 million in assets last month.
Among issuers, the big three of iShares, State Street Global Advisors and Vanguard were the big three in terms of inflows last month. Year-to-date, iShares ETFs have gained $47.2 billion in assets, putting the firm just ahead of Vanguard's $46.8 billion in inflows, according to Morningstar data. State Street Global Advisors, the second-largest U.S. ETF sponsor in between iShares and Vanguard, has attracted $23.7 billion in new investments this year.
For more on ETFs, click here.
View Comments and Join the Discussion!
Posted-In: News Sector ETFs Broad U.S. Equity ETFs Specialty ETFs New ETFs Emerging Market ETFs Currency ETFs Intraday Update Best of Benzinga