Bloomberg Interviews President Obama, Sends S&P 500 Downward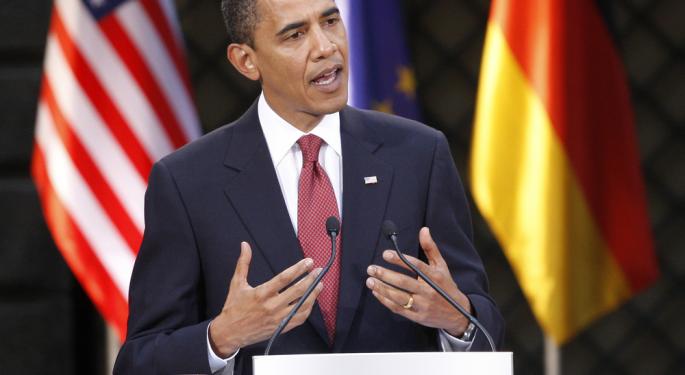 President Obama gave an interview with Julianna Goldman from Bloomberg Tuesday regarding the fiscal cliff talks that are ongoing.
President Obama's main point was about how the Republican offer doesn't go far enough to raising revenues necessary to take on the deficit. Obama said that what Republicans need to do is acknowledge that the tax rate on the wealthy is going up.
The president said that what business leaders want most of all is an increase in consumer confidence. There are many areas requiring improvement, including taxes, entitlements, loopholes and deductions. The president noted that a package that "does it all," would not be likely before the so-called fiscal cliff.
He laid out a "framework" for how he would like this discussion to continue: letting the tax rates go up at the end of this year, work on loopholes and deductions and simplifying the tax code in 2013, then focus on entitlement reforms after that. It is important to note that he said he would be flexible within this framework and only this framework.
Obama stated that he would like to protect the core of entitlement programs, but some parts may be on the table. For instance, he would like to look at how to reduce long-term costs, but does not favor slashing benefits for current beneficiaries.
The president also proposed a higher tax rate on income above $250,000 only. This would apply to 100 percent of Americans, but would have no impact on those earning less than that threshold (roughly 98 percent of the country).
When asked if he would like to bring in top executives to advise his economic team, the president emphatically said that he would love to have them. He also derided the confirmation process and talked about how most business people are turned off by the mud-slinging and name-dragging of the confirmation process.
The president also stated that he has spoken with business leaders who are ready to invest and ready to hire, but are waiting for some assurance from the government that the long-term debt problem will be addressed and that pro-growth measures are being taken. Obama also acknowledged that White House relations with business leaders has been strained in his first term, but hopes they will improve for his second term.
The president finished by saying that he believes in the potential for a deal as talks move forward. At the beginning of the interview, the SPDR S&P 500 ETF Trust (NYSE: SPY), a great indicator of overall U.S. economic conditions, was at $141.21.
The S&P 500 showed minor fluctuations during the interview but by the end was at $141.09, down from its open of $141.47, a 0.27 percent decrease.
Posted-In: News Politics Forex Global Economics Markets Trading Ideas General Best of Benzinga
View Comments and Join the Discussion!