Deal on Greek Aid Finally Reached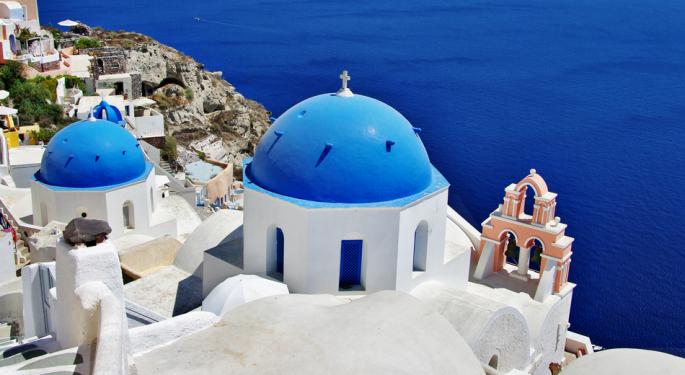 The euro strengthened on Tuesday morning, trading near $1.30. The price increase was attributed to a final decision between European finance ministers and the International Monetary Fund about managing Greece's debt.
After three long meetings, the EU finance ministers and IMF Director Christine Lagarde emerged from their final talk in Brussels having reached an agreement on how to move forward and tackle Greece's debt problem. The main point of contention was whether or not to give the country two additional years to lower its debt to 120 percent of GDP. In the end, the two parties agreed to keep the target date the same, 2020, and raise the debt ratio goal to 124 percent of GDP.
In order for this new target to be reached, the EU finance ministers had to commit themselves to assisting the country in lowering its debt. When Greece reaches a primary budget surplus, forecast in 2016, Greek loan write-offs from the EU lenders may be necessary. Although this notion has been fiercely opposed by Germany and some other northern European countries, Reuters reported that German Finance Minister Wolfgang Schaeuble said Germany is willing to consider further measures to reduce Greek debt once the country has fulfilled all of its conditions and is nearer to a primary surplus.
The aid money is set to be delivered in stages, with the first part due on December 13th, just in time for Greece to pay wages, pensions and suppliers as well as recapitalize its banks. One third of the money, paid by the IMF, is set to be delivered after Greek debt is bought back in the next few weeks.
While the release of these funds and a new plan in place to help Greece get out of debt has strengthened the Euro, some worry that the gains will be short lived. Greece, already struggling with politically instability and social unrest, barely weathered its past round of austerity cuts, which were promised to be the last. More cuts accompanied by protests are sure to follow as the country attempts to meet the conditions of its bailout. Also adding to the uncertainty, an opinion poll in Greece on Monday showed the SYRIZA anti-bailout party had a four-percent lead over the current conservative government.
Posted-In: News Commodities Forex Global Markets Best of Benzinga
View Comments and Join the Discussion!